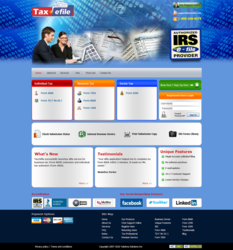 Etax7004 offers e-filing services and live customer support for Form 7004
(PRWEB) February 29, 2012
Etax7004 is an IRS Authorized e-file provider. They have a team of dedicated tax professionals reviewing all submissions and aiding users with live 24/7 chat support. When e-filing Form 7004 there is no better choice than Etax7004.
In providing e-file services Etax7004 has gone above and beyond what most companies provide. Etax7004 has added basic form information along with detailed explanations of the e-filing process to assist the user in being informed and aware of the details surround e-filing Form 7004 to Etax7004.com
Along with providing further information Etax7004 has also linked to the Tax2efile blog site allowing users to gather information on other important tax forms and due dates.
Etax7004 continues to put the user first providing easy to use step by step instructions along with live chat support and telephone support, a full directory of applicable forms for which Form 7004 can be filed and detailed information regarding Form 7004. Visit Etax7004.com to begin filing today.
###