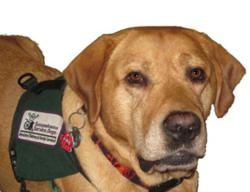 Harrisburg, PA (PRWEB) February 29, 2012
Looking for something fun to do with your dog this winter? Come to the 16th annual PawsAbilities on March 10-11 from 9 a.m. to 4 p.m. at the Farm Show Complex in Harrisburg, PA! Benefitting Susquehanna Service Dogs, PawsAbilities has something for every dog and dog lover.
This year, PawsAbilities is going to feature new games and activities. New for 2012, Smart Dog University owner Laurie Luck, a Karen Pryor-trained instructor, will teach a free class based on her Puppy Charm School. This is a wonderful opportunity for dogs and owners to start polishing their skills. Bridget of Bow Wow Grooming will also demonstrate how to teach dogs new tricks.
Returning favorites includes the ever popular Dog Olympic Games! Dogs can also compete in Central PA's Cutest Dog Contest and march in the Abrams & Weakley Parade. Other activities include the Great Biscuit Bite-Off, costume contest, Kody Kup Walk, Doga, and lots of vendors.
And don't forget about the Canine Good Citizen and Therapy Dog International tests! If you and your dog pass both tests, you will join an elite group of therapy dogs and their owners who are certified to make therapy visits. Preregistration is required.
Tickets for PawsAbilities cost $8 for adults, $4 for children ages 4-12 and are available online through March 5. After March 5, tickets will be available at the door, $10 for adults, $5 for children.
For registration and ticket information, as well as more information about all of the activities, visit http://www.pawsabilities.net.
PawsAbilities benefits Susquehanna Service Dogs. Accredited by Assistance Dogs International, SSD united people and service dogs to assist men, women and children to become more independent. Currently, SSD has placed over 195 service dogs with individuals in Pennsylvania and the surrounding states.
For more information about Susquehanna Service Dogs and Keystone Human Services, visit http://www.keystonehumanservices.org.
###