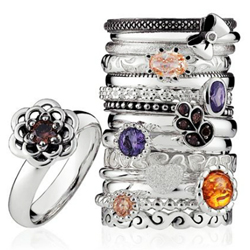 A Silver Breeze launches the new line of Spinning Jewelry to their stores
New York, NY (PRWEB) February 29, 2012
The New York retailer, A Silver Breeze, launches the new line of Spinning Jewelry to their stores. Spinning Jewelry offers unique sterling silver designs that are versatile and creative. Spinning Jewelry has everything from a wide variety of rings and charms, to earrings and bracelets that can be combined many different ways to suit the look you want!
Spinning Jewelry has a stunning assortment of elegant rings that can be worn alone or layered together to create your own design.
The earring collections are truly fun and creative. In this season's bright pastel colors, and trend-setting and urban designs, Spinning Jewelry's earrings come in studs and you can even add charms to your earrings to give them a personal touch!
Spinning Jewelry's bracelet collections come in leather and sterling silver for an earthy and casual look or a chic and elegant ensemble. A wide variety of link locks are available to close the bracelet together, adding a wonderfully unique design to your bracelet.
Unique jewelry pieces to fit your unique style! Spinning Jewelry offers you versatile and interchangeable jewelry that you can dress up for a special occasion or dress down for a casual-everyday look. With Spinning Jewelry, the possibilities are endless!
Check out the new Spinning Jewelry collections, available from A Silver Breeze, in store and online at: http://www.asilverbreeze.com.
About A Silver Breeze
A Silver Breeze was founded with a philosophy in mind: give women the freedom to be themselves and embrace a sense of style that's unique to each woman. A Silver Breeze offers women quality sterling silver jewelry that is interchangeable, like the Kameleon, Miss Chamilia, Bijoulee, Chamilia, and the new Spinning Jewelry collection
Stores are located at the Aviation Mall in Queensbury, New York, at the Wilton Mall in Saratoga, New York, and online at: http://www.asilverbreeze.com. Be sure to browse the online store to see all the available collections. Free shipping is available anywhere in the USA. A Silver Breeze ensures every customer's shopping experience will be an unforgettable one.
# # #