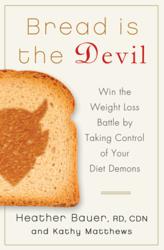 Mt. Kisco, NY (PRWEB) February 29, 2012
New York based nutritionist and author, Heather Bauer, recommends Cucina Antica® in her latest book, Bread is the Devil: Win the Weight Loss Battle by Taking Control of Your Diet Demons.
According to her website, http://www.nu-train.com, "Heather Bauer is a nationally recognized nutrition expert, author, and founder of Nu-Train, a New York City-based diet and nutrition counseling center. Over the last decade Heather has taught thousands of people how to safely lose weight and keep it off for good. Her success stories range from those working long hours on Wall Street, to doctors, lawyers, mothers, athletes and celebrities."
Cucina Antica Foods Corp. is a family owned and operated company located in Westchester County, New York. For over 14 years, Cucina Antica Foods Corp. has provided families with all-natural, fresh sauces as well as donations and support for families in need. Recently an organic line of dressings and ketchup has been launched. For more information, please visit http://www.cucina-antica.com.
###