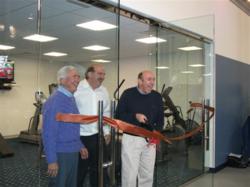 We are excited to provide our employees with the wellness tools they need while finding ways to control the costs of our comprehensive health benefits
Marlton, NJ (PRWEB) February 29, 2012
Health screenings, fitness instruction, and fresh smoothie demonstrations are just a few of the activities happening at The Michaels Organization's Marlton corporate headquarters office when it hosts a health fair for its employees March 2. The event kicks off a new focus on wellness and preventive care that Michaels hopes will not only help employees and their families improve their health, but will also significantly reduce the company's rising health care costs.
"We are excited to provide our employees and their families with the wellness tools they need to improve and maintain their health while finding ways to control the costs of the comprehensive health benefits we provide our employees," said John O'Donnell, Chief Operating Officer of The Michaels Organization.
The March 2 health fair will take place at the corporate headquarters of The Michaels Organization located at 3 East Stow Road, Suite 100, in Marlton, 9:30 a.m. to noon, followed by a luncheon. Media are welcome to attend.
For the event, Michaels has teamed up with Cooper Hospital, The American Red Cross, Smoothie King, and several local personal trainers to transform its office warehouse into a health fair for all of our employees in the home office as well as employees who work at Michaels-owned apartment communities within driving distance to the corporate office. Among the day's activities are confidential screenings for high blood pressure, diabetes, and cholesterol as well as smoothie tasting and healthy recipes, opportunities to sign up for a corporate blood drive, exercise classes, and a luncheon with a health-conscious and tasty menu.
This health fair will also serve as a place to recognize all of the employees, in both Michaels' corporate and 16 district offices across the country, for their hard work and dedication in the organization's recent "Biggest Loser" Competition. Employees throughout the country participated in a five-month competition to lose weight inspired by the "Biggest Loser" television show.
With every pound lost since its kickoff in October, The Michaels Organization has given $1 to local food banks. On the final weigh-in Feb. 3, the total weight lost from all the participants was 914.2 lbs.
With its annual benefits open enrollment period set to kick off in April, The Michaels Organization is rolling out its "Building Better Lives" campaign, which will encourage all employees to take a more active role in managing their health, including rewarding employees for positive changes like quitting smoking and increasing their physical activity.
With a focus on preventive care, The Michaels Organization seeks to improve awareness regarding the importance of exercise, diet, and regular health care screenings. In 2010, Michaels unveiled a gym in its corporate headquarters and many employees use it to participate in company-sponsored fitness classes. This is the second time in two years that The Michaels Organization has also sponsored a Biggest Loser competition among its employees.
About The Michaels Organization
Based in Marlton, NJ, The Michaels Organization is a family of eight integrated but independent operating companies dedicated to excellence in affordable, mixed-income, military and student housing. Privately held by housing visionary Michael J. Levitt, the organization has developed more than 43,000 units since its founding in 1973 and currently manages more than 39,000 units in 32 states, the District of Columbia and the U.S. Virgin Islands. Learn more at http://www.TheMichaelsOrg.com
###