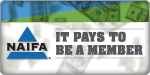 Falls Church, VA (PRWEB) February 29, 2012
The National Association of Insurance and Financial Advisors today launched a coordinated messaging campaign, "It Pays to Be a Member," designed to communicate the value proposition of NAIFA membership to current and potential members across the United States.
The campaign consists of media buys in industry trade publications as well as placements in NAIFA's own publications and communications products. It marks the first time that the entire NAIFA federation, including associations on the national, state and local levels, has coordinated its efforts to promote a unified marketing message.
"NAIFA's national, state and local associations have a unified goal to champion the business of insurance and financial advisors and help advisors succeed, but this level of cooperation across the federation to promote that goal is unprecedented," said NAIFA President Robert Miller. "We are all proud of the benefits NAIFA offers our members and the industry as a whole, so it is very exciting that all of NAIFA is working together in this campaign to spread that message."
Campaign ads will take readers to a website that offers testimonials from advisors who explain how NAIFA membership has contributed to their success. A separate website has tools that NAIFA's 600 state and local associations can use to spread the message. The Advisor Today Blog, published by NAIFA's national trade magazine, will also promote the campaign message in posts emphasizing the value of NAIFA membership.
"NAIFA provides members with resources they need to thrive in our business," added Mr. Miller, himself a successful advisor and a 30-year NAIFA member. "NAIFA offers everything from access to continuing education to mentoring and networking opportunities to grassroots and professional political action that protects our livelihoods from legislative and regulatory threats."
The campaign message, "It Pays to Be a Member," has basis in the results of numerous surveys that have found NAIFA members produce more business and earn more money than advisors who are not members. For example, a study by New York Life found that the first-year commissions for NAIFA members averaged $90,300 versus $55,340 for non-members. A Northwestern Mutual study revealed that NAIFA members produced 52 percent more premium than non-members.
"It's no coincidence that NAIFA members earn more money than their non-member counterparts," said NAIFA CEO Dr. Susan Waters. "NAIFA provides our members with the critical tools that help protect and grow their business – two important factors that help them provide quality service to their clients."
Janice Stevens, chair of NAIFA's Association Executives Advisory Council, said this about the coordinated effort: "This campaign provides association executives with the types of resources we need to communicate the NAIFA value proposition in a unified voice. This campaign is designed to ensure that every advisor, including current members and those who have not yet joined, knows that it really does pay to be a member of NAIFA." Stevens is association executive for NAIFA-Charlotte.
About NAIFA: NAIFA comprises nearly 600 state and local associations representing the interests of approximately 200,000 agents and their associates nationwide. NAIFA members focus their practices on one or more of the following: life insurance and annuities, health insurance and employee benefits, multiline, and financial advising and investments. The Association's mission is to advocate for a positive legislative and regulatory environment, enhance business and professional skills, and promote the ethical conduct of its members.
###