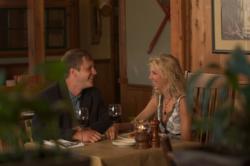 "Survey of online dating sites finds Saskatoon the most talked about in Greenville, South Carolina!"
Greenville, SC (PRWEB) February 29, 2012
Edmund Woo, owner of Saskatoon Steak House, a Greenville, SC restaurant, was surprised and flattered that his Greenville, SC steak house restaurant would come back as the top word in dating profiles in Upstate Greenville, South Carolina. He believes that there are a number of reasons that dating singles hold his Greenville, SC restaurant in such high regard. "I would think that our unique menu, http://www.saskatoonrestaurant.com/menu.html, the North Woods décor as well as the attentive but non-intrusive service all played a role. Saskatoon steak house is just a great place to bring a date to."
Edmund further added, "In dating successfully, you need to stack your cards by setting the scene. You need to know that you can depend on the restaurant that you go to, that it is going to add to and not distract from your dating experience. I've lost count of how many customers, in our seventeen years of business, have come here for their first date or to be engaged in our Greenville, SC Restaurant and then come back year after year for their anniversaries! " http://www.saskatoonrestaurant.com/ "
Saskatoon: Steaks Fish and Wild Game is located on 477 Haywood Road in Greenville, South Carolina, 29607. One of the best Greenville, SC steak house restaurants, the North Woods Lodge restaurant has won Best Steaks in the Upstate of South Carolina ten years in a row, featuring Wild Game Steaks like Buffalo, Elk, Ostrich, Antelope as well as choice, mid-western beef, corn-fed and aged in house, hand-carved daily by the Chef.
Edmund Woo, the owner of the Saskatoon Steak House Restaurant, is available for interviews at: 864 363 6644
###