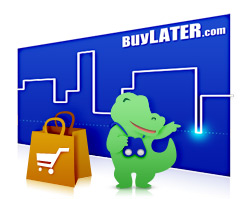 BuyLater is a perfect tool for ... watching for price drops. The quick notification system ... will ensure that you'll know as soon as the price changes or item becomes available, giving you first dibs on the product. - Adam Pash, Lifehacker.com
Fairfield, IA (PRWEB) February 29, 2012
BuyLater, a free price tracking tool, just launched Drop Zone. Drop Zone shows the day's largest price drops and most recent price drops across all supported sites. Drop Zone users can set up custom email alerts to notify themselves of price drops they are interested in.
Drop Zone can be accessed by anyone, no registration required. Shoppers can browse through a seemingly endless list of items on sale across all supported sites, including Amazon.com, Newegg.com, Bestbuy.com, Zappos.com, and more.
The Drop Zone lets shoppers see sales going on right now and set up custom alerts for future sales. Once an email address is entered users can begin creating custom alerts for future price drops.
To access Drop Zone directly, visit http://BuyLater.com/Drop-Zone.
Using BuyLater makes it easy to be an informed shopper, save money, and time.
To learn more about BuyLater, visit http://BuyLater.com
# # #