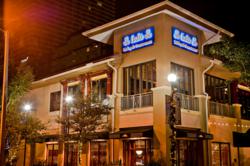 Miami, FL (PRWEB) February 29, 2012
Fadó Irish Pub & Restaurant will roll out the barrels, pump up the pipe and amplify the pub culture in South Florida for its second-annual, week long St. Patrick's Day training schedule in preparation for its PADDYTHON event in Miami's Mary Brickell Village, located at 900 South Miami Ave.
Last year, more than 4,000 people invaded Mary Brickell Village for Fadó Irish Pub & Restaurant's St. Patrick's Day event, with a block party dominating the square all day and most of the night and an indoor pub celebration that left everyone all shades of green by the end of the festive night. Bag pipers and Irish dancers showcased the best of Ireland as patrons and guests got a taste of Ireland.
This year, Fadó Irish Pub & Restaurant is setting the bar even higher with more events. The brave are invited to take part in the series of events leading up to the PADDYTHON that combines drinking, competition, intellect and charity into a week surely to bring on camaraderie and debauchery amongst all guests.
The five-room pub recently celebrated its one year anniversary, and has plans to take that successful celebration to new heights. From March 10 through March 17, Fadó Irish Pub & Restaurant has organized multiple events for patrons to learn more about the Irish culture and meaning of St. Patrick's Day through food, friends, festivities and fun!
The Schedule of Events will include:
March 10, 2012
St. Practice Day with Miami Crawls, 2 p.m.
Fadó Irish Pub & Restaurant kicks off the St. Patrick's Day festivities early with a special "Pub Crawl" with fellow Irish pubs in the area, encouraging camaraderie for the week ahead. The crawl begins at Fadó and continues to Finnegan's, Waxy's, Lucky Clover and BIP, and returns to Fadó for a triumphant end-of-the-night celebration. One-third of the cover for the crawl will go toward the Leukemia & Lymphoma Society in Regon MacInnis' name. For more information or to register, please visit http://www.MiamiCrawls.com and join the Facebook event and invite all of your friends.
March 12, 2012
Miami Guinness Pint Pouring Contest, 8 p.m.
Miami's best bartenders are coming together to see who can pour the best pint of Guinness. The city bartenders will compete for prizes based on their steady and sure pouring skills. The incentives are strong, with valuable rewards at stake – 1st place wins $1,000 cash, 2nd place wins $500 cash and $250 cash will go to the bartender who brings the "Best Crowd". If you are a bartender up to the challenge, see Paul Cleary at the Pub for more details.
March 13, 2011
Paddy's Pub Quiz, 8 p.m.
Trivia aficionados and everyday geniuses are invited to par take in Fadó Irish Pub & Restaurant's special St Patrick's Day-themed Paddy's Pub Quiz event. The quiz will feature questions from every little leprechaun under the Miami sun. Wagering trivia enthusiasts better study hard for this one, as contestants have the opportunity to win VIP passes to the big St. Patrick's Day event on Saturday and a pint a day for a year. The fun doesn't end there – the "Best Dressed" team has the opportunity to win as well.
March 14, 2011
Elite Yelpers & Media Whiskey Tasting Event, 6:30 – 8:30 p.m.
Fadó is the place to be on Wednesday for those Elite Yelpers and Media Professionals who have a knack for learning about Whiskey as Diageo Master of Whiskey Gerry Graham will be present to advise on all things Whiskey while providing complimentary Bushmills, Bushmills Honey and Black Bush cocktails for those who are eager to mix. There will also be a sampling table with the three whiskeys available. Food is a large part of the Irish culture, and the tasting event will include some of Fado's best menu options – Irish Cheddar Dip and Boxy Wedges, Smithwick's Mini Burgers with Guinness Mayo, Chicken Tenders served with homemade Coleman's honey mustard sauce, Smoked Salmon Bites, Traditional Mini Beef & Potato Pies and Hot Brie Rarebit bites, among others.
March 15, 2011
"Regon's Raiders" Charity Night, 6 p.m.
Join in on this unique celebration of Regon alongside the Leukemia & Lymphoma Society to celebrate, the "Shamrock money" that has been raised throughout the month as well as a separate check from Fado contributing to the cause. In addition, the Miami Crawls team will? present the total that they contributed from the St. "Practice" Day Pub Crawl. Heineken, Newcastle and Amstel Light pints will be available during the event for $3. Guests also have the opportunity to enter and win raffle prizes from Heineken USA and MBV tenants, including a "big ticket" item from Heineken USA for raffle or live auction.
March 16, 2011
Happy Hour Irish Session, 5 – 8 p.m.
As the big day nears, Ireland invades Fadó with a special performance by the Crazy Folk of County, originally from Tyrone, Ireland. Be sure to arrive early to enjoy a sampling of Magners Cider, known as a great session beer in Ireland, and will be featured for select tastings from 5 – 6:30 p.m.
March 17, 2011
Paddython, 8 a.m. – close
"Super Saturday" starts off strong with Pints & Pancakes, which includes all-you-can-eat pancakes and two pints of beer, helping patrons start their day with a hearty breakfast and plenty of "Vitamin G" (Guinness). Cover for the Pints & Pancakes event is $10 and will grant entrance for the duration of the day. A menu will be available following the breakfast event for those looking for an extra fill. The Six Nations Rugby Matches commence at 8:30 a.m. and will be available for viewing inside the pub. The outdoor festivities end at 11 p.m., but the party will continue going on strong inside Fadó until 5 a.m. Safeguard your wristbands, as re-entry without one is not allowed!
Outdoor St. Patrick's Day Festival, 8 a.m. – close
Following a hearty breakfast, guests will be able to enjoy a free outdoor block party that begins at 1 p.m. with live music, a DJ, a series of outdoor events and a menu. The Crazy Folkers will return and start out the live music, followed by Bagpipers, UZOO Tribute Band, Sekond Nature and Crazy Folkers returning to finish off the live music sets. An Irish Dancer Duo will be showcasing traditional Irish moves for guests who are tempted to really delve into the spirit and learn some of their own Irish moves.
About Fadó Irish Pub and Restaurant Miami
Fadó Irish Pub and Restaurant (pronounced fuh-doe) is distinguished by its genuine Irish hospitality, quality and craic. Designed and manufactured in Ireland, Fadó is recognized as a top venue for the highest-quality European draught beer, fresh food and European and international sports, primarily soccer.
Fadó Irish Pub and Restaurant is located at 500 South Miami Avenue, Miami, FL 33130 and is open seven days a week, serving brunch, lunch and dinner, Monday through Thursday from 11 a.m. to 2 a.m.; Friday from 11 a.m. to 4 a.m.; Saturday from 10 a.m. to 4 a.m. and Sunday from 10 a.m. to 2 a.m. For special bookings and advance reservations, please call 786.924.0972. For more information, please visit the pub's website at http://www.fadoirishpub.com/miami/st-patricks-day-2012 Facebook at http://www.facebook.com/fadomiami or Twitter at @fadomiami and use Hashtag #stpatricksday and follow all the chatter.
About Fadó Pubs, Inc
Fadó Irish Pub and Restaurant and its sister brand Tígin (ti-geen) are recognized as the market leader in the Irish pub segment. Fadó currently has locations in Annapolis, Atlanta, Denver, Austin, Chicago, Columbus, Dallas (DFW Int'l Airport), New York (JFK Int'l Airport), Miami, Philadelphia, Seattle, St. Louis, Stamford, CT., and Washington DC.
###