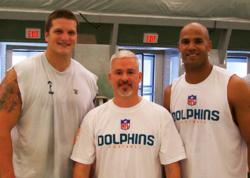 Charlottesville, Virginia (PRWEB) February 29, 2012
The University of Virginia Cavaliers football team is working with Martial Arts expert, NFL and college football consultant Mike Storms. UVA will be employing new training techniques this season to make the team tougher, more physical and increase their hand skills for the game.
Storms, a former United States Marine and 7th degree black belt and creator of Combat Football™ was coaching in Charlottesville, VA for two days with football strength and conditioning Coach Evan Marcus.
Storms and Marcus met when Marcus was the Assistant Strength Coach with the New Orleans Saints in 2002. Says Marcus, "Some of our players were training with Mike and invited me to go to his school, I trained with him while I was with the Saints and we have been working together ever since then."
This isn't a new trend. Players, coaches and teams are always looking for legitimate ways to improve, to expand their capacities, to get the edge. The Martial Arts have been in football for 40 years. Martial Arts have been used in the NFL and upper tier Divison-1 programs since the 1970s when all-pro NFL Hall of Famed Randy White of the Dallas Cowboys used it to help escape from offensive lineman, shed blockers faster and make more tackles. Jerry Rice then used it at the wide receiver position and the 49ers had a Martial Arts Coach on staff for many years enhancing the players' skills and mental toughness.
You can sometime see players warming up with hand skill drills before games; it's critical to warm up your hand and brain speed before games. Receivers run routes, quarterbacks throw. Lineman need to get their hands moving so at the first whistle they are at game speed and don't need a few plays to get to full speed. Players get better at their potions and come up with moves their opponents just don't have answers for. In a game like football that's based on inches and speed. Overcoming your opponent with extra skills gives a decide advantage to the team that possesses them.
Working with the late Earl Legget, Storms recalls. "One of the greatest defensive line coaches ever told me almost 20 years ago, I don't care how big and strong you are if you have slow or soft hands, that what makes a great Defensive Lineman."
And in the age of 400 yard passing games becoming the norm, the defense had better get to the quarterbacks faster. Defensive Linemen are looking for any advantage to get pressure on the quarterbacks and Combat Football™ helps achieve this goal.
6-time pro-bowl Defensive Tackle La'Roi Glover says of Storms coaching, "The work I did with Mike Storms helped to transform me into a Pro Bowl player. Hand to hand combat and football are one in the same. Without the training, I would not have been able to survive against players who were a lot larger than I was. I recommend the training to any player, at any level of football."
"It's a combination of football and Martial Arts body mechanics and speed", Storms says, "it's not Karate to be used for fighting, it's Karate skills, Karate speed, and Karate escapes applied to on-field play for all positions."
Coach Storms has taught the program for over 20 years. He began when his instructor, Jim Advincula, was the Martial Arts coach for the San Diego Chargers. Jim was with the Chargers from 1986 to 1993, then Storms worked with the New Orleans Saints for many years, and began pick up private NFL and college players at his facility in Mandeville, Louisiana. Since then he's worked with the Miami Dolphins, (also with Coach Marcus), Nebraska, Tulane, UNC, ECU and still trains players privately.
Storms says "It's a natural thing. Take a great player and add to his skill set, make his hands and feet move in unison, strike and escape harder and faster, it's really like hand to hand combat between the D-Line and O-Line, and the Wide Receivers and Defensive Backs. Added in is some inspiring U.S. Marine discipline and hard contact drills, and the players are loving it."
Storms is expecting to get another invitation to return to UVA this year, and he is speaking with some other teams about bringing Combat Football™ to their players as well.
Football with Martial Arts is here to stay. It's proven itself for decades with some of the best players at every position. Soon you may see each of the top programs with full time Martial Arts coaches. Storms says that would be fine with him, "as long as they understand football". It's not about karate, it's about making teams and players better. We don't want anybody fighting with the things we teach, just winning games.
###