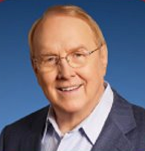 Colorado Springs, CO (PRWEB) February 29, 2012
It's not uncommon to hear people say they think Dr. James Dobson retired after he resigned from Focus on the Family in 2010. But that's a far cry from reality. In fact, almost immediately after departing from Focus, Dr. Dobson began a new radio ministry called Dr. James Dobson's Family Talk dedicated to the important work of strengthening families, speaking into the culture, and spreading the gospel of Jesus Christ. Dr. Dobson and the team at Family Talk just celebrated the completion of two years of ministry.
Dr. Dobson is, of course, the well-known psychologist, best-selling author, counselor, advisor to three presidents, radio and internet communicator who has ministered to millions around the world through his broadcasts, bestselling books, passionate speeches, family video series, service on federal commissions, and cable news appearances. So profound has been Dr. Dobson's impact on the family, in both the evangelical community and in the culture at large, that tens of thousands of constituents were left puzzled and confused after his 2010 resignation from the organization that he had founded. In the two years since Dobson's departure from Focus on the Family, many people have simply heard nothing about his next communications venture and, therefore, concluded that he was no longer involved in active ministry. Others have read, or were given, confusing explanations in the media as to his whereabouts or activities.
Dr. Dobson simply wasn't ready to retire when he left Focus on the Family. He knew that God had given him a mission and a message many years ago, and that He had not yet lifted that assignment from him. He also knew that the leadership of Focus had been successfully transferred to the chosen successor, and his time there was at an end. God led Dobson to form a new ministry to continue helping families, and in March 2010 he started Family Talk. The centerpiece of this outreach is a 30-minute daily radio broadcast, "Dr. James Dobson's Family Talk," strategically designed to reach the younger generation with the Judeo-Christian worldview of the family for many years to come. In addition, Dr. Dobson writes a monthly newsletter to communicate advice to families, and the Family Talk team makes use of the worldwide web, a call center, and social media to offer help and encouragement.
Dr. Dobson is as active as ever in communicating to the needs of the family. Additionally, he remains as passionate as ever in his concern for our nation. He is energized by the creation of new programs every day and the many exciting opportunities to help families. Look for Dr. Dobson's Family Talk on your local Christian radio station or on the worldwide web:
The Family Talk website is http://www.drjamesdobson.org
Facebook location: http://www.facebook.com/myfamilytalk
Twitter: http://twitter.com/myfamilytalk
###