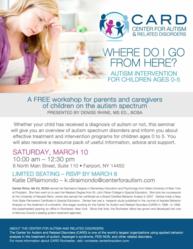 "Because autism is a chronic developmental disorder that can result in significant lifelong disability, intensive intervention treatment is essential for the maximum benefit of the children during these critical developmental years of 0 to 5,"
Rochester, New York (PRWEB) February 29, 2012
The Center for Autism and Related Disorders (CARD), considered one of the most effective autism treatment centers in the world, will host "Where Do I Go from Here?" a seminar for parents on Saturday, March 10, 2012 from 10:00 am to 12:30 pm at the CARD Rochester office located at 6 North Main Street, Suite 110 in Fairport, New York. The seminar is presented by autism expert and behavior analyst Denise Rhine, MS, ED,BCBA. The free seminar is open to the entire community and benefits parents and caregivers of children 0 to 5 years of age.
"Parents who have or suspect their children are on the autism spectrum will gain knowledge of research-based effective treatments which can increase their children's skill set and assist in reducing problem behaviors," says CARD Rochester Managing Supervisor Denise Rhine, MS, ED, BCBA. "It will also allow them to see the most recent technological advances encompassing effective programs for the treatment of autism spectrum disorders."
According to the Centers for Disease Control and Prevention, 1 in every 110 children in America is diagnosed with an autism spectrum disorder, making autism more prevalent than pediatric cancer, juvenile diabetes and childhood AIDS combined.
Autism is a pervasive developmental disorder that is marked by the presence of impaired social interaction and communication and a restricted repertoire of activities and interests. Children with autism show a great variance of symptoms, ranging from severe impairment in the use of nonverbal behaviors that regulate social interaction to a failure to develop peer relationships appropriate to age. Their impairment in communication is also marked and sustained and can affect both verbal and nonverbal skills.
"Because autism is a chronic developmental disorder that can result in significant lifelong disability, intensive intervention treatment is essential for the maximum benefit of the children during these critical developmental years of 0 to 5," adds Rhine.
Attendees will receive a resource pack.
To register for the free seminar, contact Katie DiRaimondo at K.DiRaimondo(at)centerforautism(dot)com.
For more information about CARD Rochester, visit: http://rochester.centerforautism.com.
About the Center for Autism and Related Disorders:
The Center for Autism and Related Disorders (CARD) is one of the world's largest and most successful organizations treating children with autism, Asperger's syndrome, PDD-NOS, and related disorders using state-of-the-art therapy. CARD treats autism using the principles and procedures of applied behavior analysis which has been empirically proven to be the most effective method for treating individuals with autism and is recommended by the American Academy of Pediatrics and the US Surgeon General.
For more information about the Center for Autism and Related Disorders, visit: http://www.centerforautism.com.
###