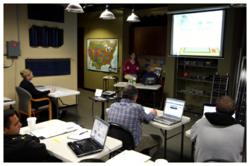 NABCEP helped me get my job at Ambassador Energy!
Murrieta, CA (PRWEB) February 29, 2012
Ambassador Energy's Advanced PV Installation 2-day course is consistently scheduled in proximity to NABCEP's exam dates. The NABCEP PV Installer exam is a paper and pencil exam which is proctored only twice a year, next scheduled for March 24th, 2012. The NABCEP PV Technical Sales exam is computer-based and offered July 21st – August 11th, 2012. Ambassador Energy's preparation courses are strategically scheduled immediately prior to NABCEP's exam dates, giving students the opportunity to enter the exams with fresh and updated technical knowledge, thus improving their possibilities for passing.
"Having been certified myself for NABCEP's PV Installer and PV Technical Sales," said Ambassador Energy CEO, Steve Fulgham, "I encouraged our Training Department to craft classes which will serve as refresher courses prior to the NABCEP exam dates. We obviously feel very strongly about NABCEP's role in quality control in our industry and want to support their programs through our Ambassador Energy College curriculum. I can personally attest to their certifications as being 'the hard ones to get', and want to provide an avenue allowing good students to get good results."
Ambassador Energy College also offers a 32-hour course and testing for NABCEP Entry Level. The result of the most recent class was a 100% pass rate.
"I just took the NABCEP PV Technical Sales exam this month," said Catherine Kelso, Ambassador Energy's Director of Training. "I know from being certified as a NABCEP PV Installer years ago and now from this last exam that these tests are no joke. They require a great deal of effort, but are totally worth it for anyone making a career in solar PV. Being NABCEP certified was a huge factor in my getting a job at Ambassador Energy!"
Ambassador Energy is one of a very few ISPQ accredited firms in the state of California qualified to teach and test for NABCEP Entry Level [EL]. Their trainers are NABCEP certified in both PV Installation and PV Technical Sales.
The Ambassador Energy training team also provides continuous coaching, training, support and customized training classes and webinars for its family of Authorized Agencies nationwide.
About Ambassador Energy
Ambassador Energy [AE] is a solar training and distribution company, with 94 Authorized Agencies operating in 16 US states. On staff are two NABCEP Certified PV Installers and one NABCEP Certified PV Technical Sales professional [Fulgham 012911-35/031310-74,Kelso 031310-124] and several NABCEP EL graduates. AE offers general PV training, in addition to providing a turnkey, consolidated platform of renewable energy training, support, product-agnostic distribution and evolving mindshare to a nationwide network of Ambassador Energy Authorized Agents, who are contractors and entrepreneurs augmenting their portfolios by offering renewable energy solutions to their clients.
Ambassador Energy offers their Agency program to qualified candidates. New Agency Training is offered approximately once every four to six weeks. Non-Agency training is offered consistently throughout the year.
# # #