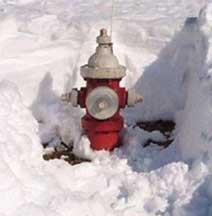 Many dangers in the home can be made safe by simply being aware..
Neptune, NJ (PRWEB) February 29, 2012
This winter season for much of the country has been relatively mild, however, with late winter storm warnings now in effect, it is still important to be aware of hazards in and around the home this winter.
Whether residing in the city or the suburbs, certain daily routines can be made safer and can reduce damage to homes and businesses, injury or even death. Being alert to specific hazards and general housekeeping practices will keep families safe.
"Many dangers in the home can be made safe by simply being aware and alert to these situations", said Donald Colarusso, president of All Hands Fire Equipment, firefighter for 25 years and leading supplier of fire equipment and fire tools such as the Halligan Bar.
While spending these remaining few winter months comfortable and warm in homes awareness of these safety tips can make the rest of the winter safe.

Smoke detectors and carbon monoxide detectors should always be working, and replaced or repaired if they are non-functioning.
Chemicals should be stored in safe locations and manufacturers recommendations for proper storage should always be followed.
Fireplaces or wood burning stoves must be properly maintained ensuring that all components are properly, cleaned serviced and in proper working order.
Extreme caution should always be used with candles and naked flames. Keep away from window dressings and any materials that could ignite.
Caution should always be practiced when cooking. Stoves should never be left unattended while food is cooking.
If snowfall is experienced, maintaining paths to doors will allow for egress in the event of an emergency. Responsibility should also be taken for ensuring that fire hydrants are clear from snow so that they are easily seen and accessible in a case of an emergency.
These tips are provided to assist in making homeowners aware of potential hazards around your home. All Hands Firefighter Equipment is reminding homeowners that it is everyone's responsibility to work towards a safe environments for homes and families.