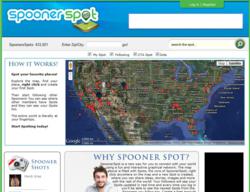 For businesses that understand the benefit of sharing in the social networking action SpoonerSpot is going to be a strong new application for their marketing efforts.
Las Vegas, NV (PRWEB) February 29, 2012
CitySpoon Inc.'s new venture, SpoonerSpot, brings the whole world to the fingertips of its users in a brand new way. SpoonerSpot, a new social networking platform finalizing its first round of beta testing this week, allows users to create posts, called Spots, and place them around the world for their followers to see and discuss. But SpoonerSpot is much more than a large list of geotagged notes, a common criticism of other websites using map based sharing platforms, and instead is positioning itself to offer a variety of applications for real world business and pleasure, and is also working towards shrinking the world in such a way that everyone can come together via the site.
SpoonerSpot, at first glance, is a way for Spooners (SpoonerSpot users) to document their lives and share it with friends. By simply clicking on a location and writing a quick note or uploading an image, a Spot is created and every Spooner that follows the user can see the Spot, learn about the user and even start a discussion or share their own Spots. This, though, is the most basic component of SpoonerSpot, and something that many of SpoonerSpot's current and future beta testers have overlooked as they quickly see the site for the social marketing tool that it is.
Several real estate agents have expressed interest in using SpoonerSpot as an effective method for displaying new property listings and advertising the areas that they specialize in, while travel enthusiasts see a way to set up tours of their favorite cities complete with recommendations and even full walking tours. Event planners and one restaurateur saw the site as a strong way to develop a buzz for upcoming events, receive customer feedback on potential event sites, and distribute coupons and discounts in a manner that promotes exclusivity by engaging with the SpoonerSpot community. Other businesses are looking at SpoonerSpot as a qualitative market research tool. SpoonerSpot's initial application is to allow Spooners to document special moments in their lives, and marketing teams from hotels, resort destinations and the dining industry instantly saw the wealth of customer feedback knowledge that could be gained by reviewing Spots and discussions on those Spots.
"Social Networking has proven to be a great way for businesses to engage with their customers," said Kevin Brooks, CitySpoon's VP of Operations. "For businesses that understand the benefit of sharing in the social networking action SpoonerSpot is going to be a strong new application for their marketing efforts."
SpoonerSpot isn't just focused on helping businesses learn more about their customers. Another level of engagement that SpoonerSpot offers is the growing amount of features on the site that comes directly from the sites users. Already included on SpoonerSpot is a community photo blog, called SpoonerShots, where Spooners can upload images to develop entirely Spooner developed stories about special events and holidays.
In addition, SpoonerSpot will also be employing the SpoonerSuggestions section, acting as an open forum for Spooners to discuss various Spots on the map, topics, and what new features they would like to see on SpoonerSpot in the future. This feedback will be used to enhance some of SpoonerSpot's ongoing contests and will also dictate the topics for the aforementioned SpoonerShots section.
"If there's one thing we've learned from this industry it's that social networking websites need to evolve," said Brooks. "It would be arrogant of us to think we know exactly what our users want coming out of the box, and we look forward to hearing from the Spooner community to help us grow SpoonerSpot into the social networking site our users want!"
The site has many facets that beta users and those awaiting beta invites have already expressed, and even before its official launch SpoonerSpot is already growing and evolving into a fun, exciting and functional platform with a variety of uses. With more and more feedback coming in at the tail end of SpoonerSpot's private beta phase, the implementation of these ideas will help engage the next round of SpoonerSpot beta testers as the site quickly moves towards its official launch in the second quarter of 2012. More information will be revealed soon on how to be a part of the next phase of testing, and CitySpoon encourages any interested parties to stay in touch with CitySpoon and SpoonerSpot on Facebook, Twitter and the company's main website, CitySpoon.com.
About CitySpoon Inc.:
CitySpoon Inc. launched CitySpoon.com in the Summer of 2011. The site serves as a local guide for living bigger, better, and smarter by providing in-the-know recommendations, candid user reviews and expert advice for businesses and events in CitySpoon communities.
CitySpoon was created as a multi-platform resource for people to save money and help businesses grow. The site offers discounts on national products consumers already know and love while providing local businesses with an affordable avenue to market their current promotions. CitySpoon members are enthusiastic about life and the driving force behind the company.
CitySpoon has refocused its efforts to develop SpoonerSpot.com, a new Social Networking platform that uses an interactive map to display user information. This new endeavor is currently under development and holds great promise for CitySpoon Inc.
For more information please visit http://www.spoonerspot.com.
Follow SpoonerSpot on Twitter:@SpoonerSpot
"Like" SpoonerSpot on Facebook: facebook.com/SpoonerSpot
###