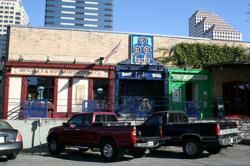 Austin, TX (PRWEB) February 29, 2012
Fadó Irish Pub & Restaurant (Fadó) brings the biggest St. Patrick's Day celebration to Austin each year, and this time, you better come thirsty. 'Paddython,' Fadó Irish Pub & Restaurant's take on the traditional 'marathon,' will start the St. Patrick's Day celebration at 7 AM, complete with sweatbands and festive T-Shirts for 'Paddython' participants. Just as a marathon would suggest, 'proper hydration is key' when pacing yourself for an all-day extravaganza of the best mix of Irish music, food and entertainment in the city. As if the 'Paddython' session wasn't enough, Fadó will also feature a Super Saturday Six Nations Rugby Tournament watch party to celebrate this year's 'European Champion.'
As usual, the authentic Irish pub will proudly begin celebrating St. Patrick's Day long before March 17. With events like Paddy's Theme Pub Quiz, St. Baldrick's Charity Event, and St. Practice Day, even the proudest American will be waving the Irish flag. This year, guests will be hoping to inherit some of that infamous Irish luck, as the newest addition to the annual St. Patrick's Day celebration features a chance to win an all-expenses paid vacation for two to Ireland. In addition, Fadó will be offering sweetened deals to those who are new to the Irish Pub, and those who are frequent imbibers beginning February 24. In conjunction with FourSquare, the 'Newbie Special' entitles first-timers to a free pint upon their first Fadó FourSquare check-in. 'Newbies' can choose from Guinness, Harp or Smithwick's for their pint prize. The 'Loyalty Special' awards customers who have checked in three times before St. Patrick's Day with 2 headbands, 2 wristbands and 2 St. Paddy's day free passes. This special ends on March 16 at midnight.
FADÓ AUSTIN EVENT CALENDAR
St. Patrick's Day Celebration at Fadó Austin
March 17
7 AM: Paddython: Fadó 's St. Patrick's Day Street Celebration
Doors open to the biggest St Patricks Day party in Austin at 7am!
Join Jason and Deb from 101X as they kick off St. Paddy's Day 2012 with a Live broadcast from 7a-10a including traditional Irish breakfast, special guests, giveaways and no cover until 10am!
Outdoor street festival with 2 stages starts at noon with Irish Dancers, Traveler, Sean Orr Band, Think Lizzy, Emerald Exiles, Silver Thistle Pipes & Drums and Traveler!
$10 cover starts at 10am, $20 cover starts at 2pm.
Tent and outdoor area opens at noon.
Pre-sale tickets available now: http://www.ticketalternative.com/Events/17671.aspx
The celebration will include live entertainment on two stages, Irish food, kegs and an outdoor beer garden. Attendees can enjoy the festivities from inside Fadó Austin and continue the party onto the blocked off area of 4th Street between Colorado and Lavaca. Guests are strongly encouraged to remember what happens when you are caught not wearing green on St. Patrick's Day. Doors open at 7 AM, and the outdoor event begins at Noon. Tickets are $10 and are now available for purchase online. All ages are welcome from 7 AM – 3 PM, ages 21+ only from 3 PM – close.
Hopefully the luck of the Irish is with you this year, because Fadó Irish Pub & Restaurant's Paddython will be giving away an all-expenses paid trip for two to Ireland. The winner will receive flights, hotel and a tour of the Guinness Brewery at St. James Gate in Dublin. All you have to do to enter the contest is sign up for Fadó's email list, and the winner will be announced on March 30.
A Full Week of Events!
March 10
10 AM – 3 PM: St. Baldrick's Charity Event
The annual fundraiser benefits St. Baldrick's Foundation and their efforts toward childhood cancer research. Attendees can sponsor or participate in the head-shaving fundraising activity and meet families who have or are currently coping with childhood cancer. The event will be complete with Irish dancers, face painting and live music with Espada and Lost & Nameless Orchestra.
March 12
5 PM – 9 PM: Discovery Channel Presents: Josh & Chuck from Stuff You Should Know
The evening will feature a live 'Stuff You Should Know' pod cast from the pub. Guests will enjoy music by Lucy Wainwright Roche and the Henry Clay People as well as local band Crooks. In addition, the night will include comedic performances by Eugene Mirrman and John Hodgeman in addition to Josh and Chuck. 'Stuff You Should Know' is one of the top ten most downloaded podcasts, averaging over a million per podcast.
March 13
7:30 PM: Paddy's Theme Pub Quiz
Weekly Pub Quiz with a festive St. Patrick's Day twist. Pub cash and prizes are given out to top three teams of the night.
March 15
4 PM: Rethink Pop Music Free Show
Fado invites you to keep the party going from your SXSW endeavors with their Rethink Pop Music Free Show, featuring New York and Austin based bands. Beginning at 8 PM, the lineup promises a night packed with remarkable talent. Bands performing include Beast Make Bomb, Cactus Peaches, The Sour Notes, Courtesy Tier, Shivery Shakes, Front Bottoms, American Sharks, and Cartright.
March 16
10 PM – Late: St. Practice Day
Why wait until St. Patrick's Day to sport your Irish pride? St. Practice Day is designed to kick-start the celebration the on the night prior to the big day, complete with a live performance from the Traveler band.
Fadó Irish Pub and Restaurant was introduced to Austin in 1997 by a team of Irish and Irish-American entrepreneurs. Their goal was simple: bring the feeling and spirit of Ireland's pub culture to the States along with great Guinness, high quality food, and an environment where staff were free to be themselves and customers could escape from the day to day. Fadó Austin does just that, bringing an authentic Irish experience to the eclectic vibe of downtown Austin. For questions and information, call 512.457.0172 or visit http://www.fadóirishpub.com/austin.
***
MEDIA CONTACT:
John O'Brien, general manager 512-457-0172
###