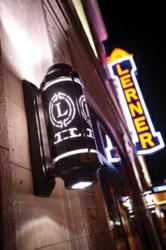 "When people get involved and bring a city back to life it becomes loveable, and everyone wants to live in a loveable city."
Elkhart, IN (PRWEB) February 29, 2012
Elkhart, Indiana, a city widely known for the production of RVs, is reviving the image of its downtown by focusing on the arts. "This downtown revival comes about through the commitment of city government combined with the passion of a large team of community volunteers who share a vision for positive change," says Diana Lawson, Executive Director of the Elkhart County Convention & Visitors Bureau.
A cornerstone for this revival is The Lerner. Just 5 years ago this downtown 1920's vaudeville palace was a tired, worn theatre. A group of residents had a vision that the theatre could be renovated, expanded and become a defining catalyst for positive change in downtown Elkhart. A study group led by volunteers was organized to assess the building, costs associated with renovation/expansion and potential success of operating the theatre as an event facility.
At the completion of the study this volunteer group had developed an advocacy movement to support public investment of $12 million and nearly $5 million in private contributions for renovation and expansion. Lawson,who chaired the volunteer study group notes, "This monetary commitment was huge considering it came at the time when Elkhart, Indiana was at the center of the national economic downturn. Also remarkable is the fact that a local attorney volunteered two years of his time to take on the immense job of managing every aspect of the renovation."
The renovation was completed June, 2011. Today, The Lerner is a majestic center for Elkhart's new Arts & Entertainment District, surpassing the study's projections and exceeding the expectations of everyone involved in the vision.
Lawson goes on to talk about another volunteer driven initiative that also encompasses Elkhart's Arts & Entertainment District. "SoMa is a study group focused on the redevelopment of several blocks on South Main Street plus adjoining historic blocks that have been challenged for decades," she says. The vision for this neighborhood is that it will be a place for working artists, young professionals and empty nesters. Lawson notes that even though the study is in its beginning stage, changes are already happening. She references a landlord that is copying a business model for attracting artists to his 16 unit building by offering affordable rent and providing work and gallery space for tenants at a location close to the apartments. In return, tenants are required to contribute their artistic skills to the neighborhood. And an owner of a four-plex across the street has decided to adopt the same concept for his building. She says, "There are hundreds of volunteers engaged in the SoMa movement, and we believe that one building at a time will change this neighborhood."
Lawson comments on communities across the nation leveraging the arts to create sustainable, livable neighborhoods and improve business viability. She says, "When people get involved and bring a city back to life it becomes loveable, and everyone wants to live in a loveable city."
Jackie Hughes | Elkhart County Convention & Visitors Bureau | 219 Caravan Drive | Elkhart, IN 574.262.8161 | 800.860.5957 | jackie(at)amishcountry(dot)org | AmishCountry.org
###