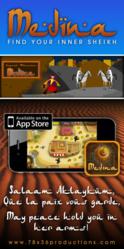 San Francisco, CA (PRWEB) February 29, 2012
The updated release date, slated for March 19th. Apparently the developer, seems not only satisfied releasing the update, but has announced a promotional offer at the same time. Followers of Twitter @78x36Production and Facebook https://www.facebook.com/ImperialMillenniumMEDINA will be the first to find out what 78x36 Productions is planning. Gamers will need to mark their calendars, so as to not miss out on the promotional opportunities 78x36 Productions has up their development sleeves.
In the popular game play, to hear these words spoken by the King, "Salaam Aklaykum,... Que la paix vous garde,...May peace hold you in her arms!" signals victory during unimaginable game play, but more challenges quickly follow.
Awaiting gamers, as a loyal royal subject of monarch ruled territory, Imperial Millennium: MEDINA - Warning Highly Addictive is a heroic opportunity, to, bestow many riches, including monetary wealth, deeper intellect and spiritual awareness. Ultimately the goal is to prevail and insure the kingdom will be able to survive for many more centuries to come.
78x36 Productions is an independent developer of applications targeting platforms on iPhone, iPod touch, iPad, and now on Android. Specializing in gaming, reference, lifestyle, entertainment, and travel mobile device applications, our popular titles include- casual gaming MEDINA - WARNING Highly Addictive, tennis reference 10S REF, and entertaining STAR STRUCK Hollywood Celebrity Tour USA. Web: http://www.78x36Productions.com
###