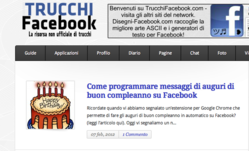 It makes me more confident than ever that we have an idea that people can connect with.
Kansas City, MO (PRWEB) February 29, 2012
When Geoff Lilienfeld launched his new Facebook birthday app, birthdayFB, he believed he had a great idea. But even he has been pleasantly surprised by the speed with which his app has grown. "When I started birthdayFB, I was confident that others would find it as useful as I did," Lilienfeld says, "But I never imagined how quickly our site would grow. We've even gotten international publicity!" By simply importing friends' birthdays, birthdayFB users are able to schedule happy birthday wall posts for days, weeks, or even months out in a matter of minutes.
Much of this success can be attributed to the high importance of birthdays in many European countries combined with being picked up on several European Facebook blogs for the same reason. An Italian blog, trucchifacebook.com has already driven thousands of hits. Trucchi is an Italian website dedicated to discovering and reviewing various tricks and tips associated with Facebook, for its readers. The Trucchi Facebook article details the best aspects of birthdayFB—how it works, its simplicity, its compatibility with all browsers, and the fact that a person can use it without anyone else ever knowing. It additionally promotes the useful e-mail digest reminding users of upcoming birthdays. Lilienfeld is very excited about the attention birthdayFB is receiving. "Getting unsolicited media coverage from overseas isn't something I was expecting so early in the process," he says, "But I'm thrilled to have it. It makes me more confident than ever that we have an idea that people can connect with."
Lilienfeld has always planned to market his app internationally in order to take full advantage of Facebook's global reach; however, he admits that he didn't anticipate that birthdayFB would reach such a wide audience so quickly. "I've never thought of our site as strictly domestic," he says. "birthdayFB is obviously just as useful to people in other countries as it is in the United States. Having said that, I did not expect to gain an international presence so quickly, and the fact that we have is a testament to the concept underlying our site. More importantly, I think it's a sign of good things to come."
While questions continue to pour in regarding the monetization of birthdayFB Lilienfeld holds strong that "if we build a good user base and a good reputation the money will later follow." As for now the site has very limited advertisements on it "more to gather analytics than anything" Lilienfeld mentions. "I call it the Twitter approach. Every aspect of a business requires attention to do correctly. For now our attention is on usability and customer satisfaction."
birthdayFB was created by Geoff Lilienfeld, the President and Founder of iPhonesIntoCash.com, a site that allows users to sell iPhones including their used iPhones as well as broken iPhones. Lilienfeld has recently created a business blog around birthdayFB as well as his other businesses and personal life. His blog can be found at http://geoffL.com.
# # #