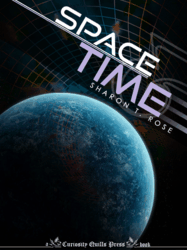 On a space station amid the massive-scale alien culture clash of the Galaxy Star Mutuality, three very different lives are unavoidably linked.
(PRWEB) February 29, 2012
"The Galaxy is a big place. No matter how well you prepare, you aren't ready for it."
This February sees independent publisher Curiosity Quills Press continuing its mission to showcase the best in serialized fiction, with the announcement of Space & Time, debut space epic by author Sharon T. Rose.
On a space station amid the massive-scale alien culture clash of the Galaxy Star Mutuality, three very different lives are unavoidably linked. Jregli is a stunted, runty but wickedly intelligent slave girl who has torn herself free of an abusive Mistress and into service under what she perceives to be a better Master and with it, a chance at a better life.
Shdr'edno looks like the perfect Master, but his rage at being tricked by a mere slave drives him to new heights of cruelty. All his careful plans and schemes now depend on this one ugly child.
Frank Neim always wanted to join the military service and see the Galaxy. Humans, however, are a minority and not politically favored in the Galactic Star Mutuality. Niem struggles to hold his own against the various aliens who want to see him fail. He's managed to become the Commander of the Space Station, but it isn't smooth sailing.
Science Fiction fans can follow the unfolding tale of this rich and involved world every Monday on the Curiosity Quills website where the novella is serialized for free.
Space & Time joins the publisher's other established and successful speculative fiction serials; Bone Wires, The Stein & Candle Detective Agency, Daughter of Glass and The Kulture Vultures.
About Sharon T. Rose
Late in 2010, Sharon left the cube farm for the greener pastures of her own imagination. The Brass screamed, the cube farm condescended, and Sharon put one trembling foot in front of another and made it work. After months of trial and effort, she completed a trilogy, released an ebook, syndicated a serial, sold a short story, and has so many WIPs that she sometimes wonders why she did this in the first place.
Oh, right. Because the stories must be shared.
About Curiosity Quills Press
Curiosity Quills Press (http://curiosityquills.com), launched its independent publishing imprint in June, 2011 by writers, for writers, out of a common frustration with the state of publishing today. Instead of relying on readers to sift through the so-called "Amazon slush-pile", CQ presents a uniformly top-notch level of quality, tastefully curated, hard-hitting storylines, and memorable characters readers won't forget amidst their Kindle downloading sprees.
We know it's hard to stand out from the crowd when it's millions large, but Curiosity Quills Press helps level the playing field through its members' innovative social media approach, a transparent culture, and a deeply passionate team.
###