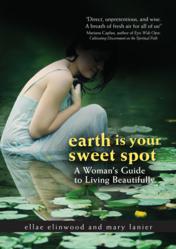 Direct, unpretentious, and wise. A breath of fresh air for all of us
Marianna Caplan
Ashland, Oregon (PRWEB) February 29, 2012
Authors Ellae Elinwood and Dr. Mary Lanier see that the ultimate challenge for women is to be deeply engaged in life without feeling consumed. Yet many women juggle a career, a family, a social and spiritual life, and end the day depleted. Elinwood and Lanier have written an illuminating new book that reveals how women everywhere can turn to Earth—to nurture, appreciate, and engage with her—and together they can both experience healing and renewal. Their new book, "Earth Is Your Sweet Spot: A Woman's Guide to Living Beautifully" (White Cloud Press, $12.95), is already gaining a groundswell of support from readers, and receiving praise from renowned author John Gray (Author of Men Are From Mars, Women Are From Venus), who writes how the book explores "women's special connection to the earth" revealing "feminine strength, power and beauty at the same time."
In this essential volume of feminine wisdom, the authors offer women practical and supportive information for living beautifully. This small book unveils simple steps that a woman can integrate into her daily life, in order experience a comfy body, a warm and confident emotional life, a clear mental purpose, and a profound spiritual maturity. Through spending valuable time in nature, with the intent to appreciate and connect with Earth, a woman becomes an alchemist, who takes the raw material of youth, and weaves it into the gold of maturity. She lives the miracle of life.
The simple journey to inner abundance begins with Earth. Elinwood and Lanier invite women to join with Earth's beauty and unlock their own; to allow Earth to become a friend, a guide, a fountain of nurturing and renewal. They write that "Earth is female, and as a woman, you are one with her. Your connection to Earth isn't something you have to learn, you already know it. It is embedded in your cellular makeup. Your conscious 'discovery' of Earth is simply a remembering... a remembering that we are all collectively doing together."
The book is an amalgamation of ancient wisdom, and the newest scientific discoveries. The authors also embrace the latest in technology to connect with their readers including a website http://www.earthisyoursweetspot.com, a Facebook and twitter page, and a free mobile app that enables anyone to remember their connection to Earth in a moment with author Elinwood reading short meditations from the book. The free app can be downloaded at http://www.qcardz.com/earthisyoursweetspot
Although the book is just being released, it is generating great word of mouth buzz as women are reading it and telling their friends about it. A women's group in Santa Cruz is reading the book and passing it along to others. Bonnie Gray, wife and partner of best selling author John Gray says, "This book holds the answers to the questions we as women are asking, on the road to becoming a 'quality woman' fully connected to Earth." Readers from around the world have shared their comments and feedback on the book, which can be seen at http://www.earthisyoursweetspot.com/comments-and-praise/.
The book is available now in bookstores and online.
To receive a review copy or for media interviews, contact: Steve Scholl, Confluence Books
Ph: 541-488-6415 / email: scholl(at)whitecloudpress(dot)com
Publication information: Earth Is Your Sweet Spot: A Woman's Guide to Living Beautifully
By Ellae Elinwood and Mary Lanier
ISBN: 978-1-935952-03-9
Original Trade Paperback / $12.95
Published by Confluence Books, Ashland, Oregon
Distribution: Publishers Group West/Perseus Book Group
###