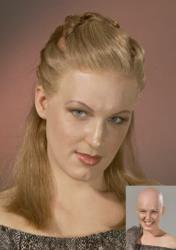 Houston, TX (PRWEB) February 29, 2012
I'm Me Again is a charitable organization that provides donated wigs that are new or gently used to women and girls with hair loss due to Chemotherapy, Alopecia, Burns, or other medically-related reasons, free of charge.
This organization was founded by Tiffani Speller, owner of Tiffani Chanel Luxury Hair, a hair boutique that began online in 2009 and has expanded to a physical boutique in Houston Texas. "Having regular exposure to women with hair loss has given me a great understanding about the emotional toll that hair loss sometimes creates. Like me, you probably don't feel your best if your hair isn't quite right. Think about how you might feel if all of your hair was gone and you had no way to replace it? Many women and girls must face this very dilemma every day, often when they are battling serious illnesses. I am honored to have the opportunity to give back in a way that can help scores of women feel better about themselves", Tiffani said.
Donated wigs may be made of synthetic or human hair, and although new or gently used wigs are preferred, worn wigs may be made into hairpieces for in need.
Cash donations will be applied toward shipping, repair costs and chemicals.
People interested in donating should mail their wigs to:
Tiffani Chanel Luxury Hair, 330 Rayford Rd., #211, Spring, TX 77386
Local donors may drop wigs off at the Tiffani Chanel Luxury Hair boutique in Houston (more locations to come) :
10950 North Freeway, suite 208 (inside Salon Park), Houton, TX. 77077
Cash donations may also be made to:
I'm Me Again, c/o Tiffani Chanel Luxury Hair, 330 Rayford Road, #211, Spring, TX. 77386
**All donors will be mailed a receipt and mentioned on our site unless donor prefers to remain anonymous.
###