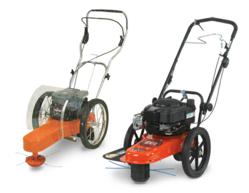 The DR® Trimmer is the product that put DR on the map.
Vergennes, VT (PRWEB) February 29, 2012
DR® Power Equipment today marked the 25th Anniversary of its DR® Trimmer/Mower by announcing that the wheeled string trimmer, which redefined lawn care for a generation of property owners while helping establish the Vermont company that produces it, will receive a powerful upgrade in 2012.
Introduced in 1987, the DR® Trimmer/Mower was the first gas-powered, wheeled trimmer available to consumers. Combining the best features of a hand-held trimmer and a bladed mower in an easy to use, powerful package, the machine quickly gained popularity among home and property owners who wanted a one-machine solution to their maintenance needs. Since then, more than 500,000 DR Trimmers have been sold in the United States, making it America's #1 selling trimmer on wheels.
But the story of the DR® Trimmer/Mower is more than sales numbers.
"The DR® Trimmer is the product that put DR on the map," said DR® Power Equipment President Joe Perrotto. "It helped transform DR Power Equipment from an industry newcomer, a small shop in Vermont with one product, to the respected American manufacturer we are today."
Development of the DR® Trimmer was led by DR® Power Equipment co-founders Dick Raymond, Rich Alther, John Gibbons, and Lyman P. Wood, longtime friends and business partners who had all recently left positions at Garden Way, Inc., then producer of the well-known Troy-Bilt Tiller. The foursome hoped to use its extensive knowledge of gardening and country living to launch a successful new business based in Vermont. But there was one big problem: the group had nothing to sell.
Legal agreements with Garden Way, Inc. kept the group from developing a competing product for gardeners, so the men turned their attention to lawn and property care. Raymond and Wood developed the idea of mounting a rotating string trimmer on wheels; this, the two thought, would transform trimming into a less physically stressful task and ultimately eliminate the need for consumers to purchase both a lawn mower and a hand-held string trimmer.
Raymond and Wood called their new invention the DR® Trimmer /Mower and touted it as "The Greatest Breakthrough in Property Care Equipment since the Invention of the Power Mower Itself." The DR® Trimmer remains one of the company's best-selling products.
"Very few products enjoy 25 years of continuous production," Perrotto said. "All of us here at DR® Power Equipment are humbled, and very excited to be celebrating this rare milestone."
DR® Power Equipment currently offers three models of the trimmer/mower, each with the muscle to trim and mow in all conditions. The machine's patented wide-body trimmer head prevents even waste-high grass from wrapping and jamming while the trimmer glides along on its front-mounted Mow-Ball® Support. Its simple controls allow users to trim and mow with precision, and oversized, easy-rolling wheels support the machine's weight, sparing the user's arms, neck and back.
The 8.75 PRO-XL model, to be released in spring 2012, is the most powerful DR® Trimmer/Mower yet. Available in push and self-propelled configurations, the PRO-XL is fitted with a Briggs & Stratton Professional Series Electric Start engine that delivers a whopping 8.75 FT. LBS. of Torque, more than enough power to handle high weeds and thick growth.
Though PRO-XL and other models may resemble the prototype built by Raymond and Wood 25 years ago, the latest DR® Trimmer/Mower is the result of years of testing and innovation. Every detail of this machine is designed to deliver rock solid reliability and unbeatable performance.
"The DR® Trimmer has changed dramatically since its introduction, as we continue to improve upon its original design, but something that will never change is DR® Power Equipment's commitment to quality, performance, and innovation," Perrotto said.
DR® Power Equipment, a division of Country Home Products, Inc., the premiere developer and marketer of professional-grade outdoor equipment for residential use, was founded in 1985 in Charlotte, Vermont. Country Home Products is a three time winner of Vermont's "Best Places to Work" award. It employs over 220 people and occupies three facilities. For more information on its complete line of power equipment and property care supplies, visit the web site at http://www.drpower.com.
PRODUCT PHOTOS AND DEMONSTRATIONS ARE AVAILABLE. DR® Power Equipment sells products factory-direct and through a network of over 500 dealers; a free catalog can be ordered at 802-877-1200, or obtained online at http://www.drpower.com. For more information on DR® POWER EQUIPMENT, please contact Marcus Certa at: mcerta(at)chp(dot)com.
###