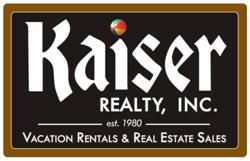 "We couldn't be more excited to offer this first step in our efforts to help our community in raising awareness for heart healthy living" - Leonard Kaiser
Gulf Shores, Alabama (PRWEB) February 29, 2012
Kaiser Realty, Inc. announces that on April 4th, 2012, a ribbon cutting and dedication ceremony will be held for brand new, clearly marked walking path in Gulf Shores. Taking place in conjunction with the American Heart Association's National START! Walking Day, this 11:00 a.m. event will feature a group walk around the 1.5-mile course immediately following the dedication ceremony. Upon completion of the group walk, all attendees are invited to a reception in the Blue Heron ballroom of the Kaiser Realty, Inc. offices in Gulf Shores.
As a local manifestation of the national "START! Walking Day" program, created by the American Heart Association, the goal of this upcoming event and the walking path, is to provide the community with a well designated walking path in a centrally located area to encourage health and fitness.
Beginning at the intersection of West Commerce Dr. and West 2nd St. in Midtown Gulf Shores behind the Kaiser Realty, Inc. offices and stretching around the Bodenhamer Recreation Center, the 1.5-miles course will feature a safe and convenient flow to ensure that those using the path for recreation can do so with confidence.
As the 2012 "My. Heart. My Life," Platform sponsors, Kaiser Realty, Inc. works closely with the American Heart Association, throughout the year, to help implement events and programs to help educate the community on the benefits of heart healthy living.
"We couldn't be more excited to offer this first step in our efforts to help our community in raising awareness for heart healthy living," states Leonard Kaiser, President and CEO of Kaiser Realty, Inc. "This is an easy way to get started and we hope that everyone will grab a friend and join us at this kickoff to a heart healthy lifestyle."
Contact:
(251) 968-6868
Follow Up Questions: Emily E. Gonzalez, Marketing/Public Relations Director EmilyG(at)KaiserRealty(dot)com
Written and Distributed By: Adam Pfaff, Public Relations Coordinator AdamP(at)KaiserRealty(dot)com
http://www.KaiserRealty.com
About Kaiser Realty, Inc.: Since 1980, Kaiser Realty, Inc. has been renting, selling and managing the finest vacation homes and condominiums available in Gulf Shores and Orange Beach. With the blue green waters and sugar white sand beaches of the Gulf Coast, it is hard to find a more beautiful location for your next home or home-away-from-home. Offering Gulf front condominiums ranging from 1 to 6 bedrooms and vacation homes sleeping up to 30 people, Kaiser Realty will help you create the perfect vacation, retreat, wedding or work function. Visit us at http://www.KaiserRealty.com or call (800) 225-4853 to speak with one of our Reservation Professionals, Sales Representatives or Rental Managers today!
Corporate Mission: "Kaiser Realty, Inc. has a tradition of fulfilling dreams for our customers, our employees and in our community. Our philosophy is to deliver exceptional, professional service with integrity, enthusiasm and a genuine caring attitude. Whether it's for a vacation or a lifetime, our family is committed to yours."
###