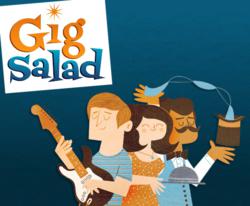 Gig Salad is a major, if not leading, player in the advertisement business for musicians.
Wilmington, NC (PRWEB) February 29, 2012
Even in a slow economy, kids still have birthdays, happy couples still get married, and, of course, guests still like to be entertained. Parents and party planners everywhere are working within tighter budgets, and instead of taking a day trip to an amusement park or renting out a local party facility, many are hiring entertainment to come directly to them, saving money on travel or venue rentals. For the team behind the popular entertainment booking company Gig Salad, the numbers are telling their own story.
"We've seen a dramatic increase in requests for themed entertainment for all types of events, from children's birthday parties to weddings, even corporate retreats," says Mark Steiner, co-founder of The Gig Bureau, parent company of Gig Salad and Book the Best.
"Even with tent rentals and catering for the larger groups, there are plenty of budget-saving options with an event held at home or in public spaces. With Gig Salad, we're giving people countless options for entertainment and event services, so whether they're looking for fire dancers or balloon twisters, they can find the perfect local talent they need to entertain their guests."
With more event planners using Gig Salad than ever before, entertainers are equally thrilled with the opportunities. "I registered with Gig Salad a little over a month ago and I have received more inquiries and booked more jobs than I have in a year or two on other websites," says Yuri, "Prince of Color." Yuri's services include interactive variety shows for children's entertainment in the greater Boston area.
Matt Stedman Band, based in Chicago, IL, has been a big believer in Gig Salad for years, using the website as one of his primary sources for bookings. "Gig Salad has been a great source of gigs for my group. The staff at Gig Salad have improved the site consistently and are consummate professionals, especially regarding customer service. I've steadily received more gig offers each year since I joined, and I've turned those increased offers into an increased number of gigs." Matt went on to say that Gig Salad "is a major, if not leading, player in the advertisement business for musicians."
It's a sentiment shared by Sheryl Renee, a wedding vocalist in New York City. "I have received more hits from Gig Salad than any other site I advertise on. I am glad I invested in the upgrade!"
The praise is good news to Steiner, though he admits he isn't shocked to hear great comments. "We hear from our members constantly about how they're booking bigger and better gigs everywhere, and it's certainly rewarding for us after all the effort we continually put into making Gig Salad better. We've got over 20,000 entertainers listed with us, and by keeping membership costs down our members are able to offer more competitive pricing to event planners, without having to worry about paying for leads or commissions. We're keeping it fair for everyone, event planners and performers alike."
Budget constraints and great testimonials aren't limited to small, private events, according to Steve Tetrault, creative mind behind The Gig Bureau. "We've seen an uptick in business bookings as well, with more corporate event planners trying to cut costs by having retreats and seminars onsite rather than at more expensive venues. We're always getting calls for corporate entertainers like comedians and keynote speakers, and by booking local talent, our corporate clients are able to save."
Mark is quick to agree. "We've booked entertainment for some big corporate clients, and one concern is how much they'll need to budget above the cost of the talent for things like travel and accommodations. When we're able to easily find a Gig Salad member within a short distance to the event, it helps put everyone's mind at ease."
About Gig Salad
With more than 20,000 entertainers and vendors available for hire across North America, Gig Salad is the place to book entertainment and event services for parties and corporate events. Gig Salad's clients include America's Got Talent, CBS, American Express, Disney, and MTV, in addition to thousands of brides, event planners, parents, and venue owners who use the site to book entertainment.
Based in Springfield, MO and Wilmington, NC, they can be reached at 866-768-GIGS and at gigsalad.com.
###