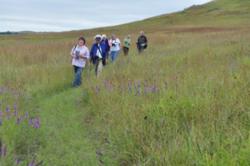 "What remarkably amazing, awe-inspiring, vast beauty there is to behold in Kansas, of all places, I had no idea."
- from tour participant Deanna Pomije
Portal, Arizona (PRWEB) February 29, 2012
This spring, go beyond the beach or mountains for your next vacation, and discover one of America's unique eco-regions— the Prairie! Naturalist Journeys is promoting biodiversity and ecotourism in America by offering two prairie-based nature tours this spring, one in Kansas, America's Heartland in early May and the other in Montana's Big Sky Region in June.
Montana's Big Sky Region – often called the American Serengeti for its huge herds of bison and pronghorn – offers travelers an African-like adventure with big mammals and vast grasslands, much closer to home. Naturalist Journeys' eight-day adventure, June 3-10, begins in Billings, Montana, and includes two nights in tented accommodations similar to those popular on African safaris. Like an African safari, participants experience game drives with interpretation by experts, including some of the science staff of the World Wildlife Fund and independent universities working with them to catalog the region's striking biodiversity. Researchers are radio-tracking Long-billed Curlews, tracing their migration in winter to grasslands of Mexico, with several curlews already observed returning to their same spot under Montana's Big Sky during a subsequent season. They are tracking animals such as Swift Foxes and Mountain Plovers, both species rare to observation elsewhere.
While on safari, Naturalist Journeys is working with the non-profit American Prairie Reserve, whose mission the renowned ecologist E. O. Wilson has called "an idea that rivals that of our National Parks as America's best idea" for the American Prairie Region. He calls the American Prairie Reserve's goal "terrific" and believes that a 3.5 million acre reserve, knit together between private and existing public lands, is possible. The reserve in remote Northeastern Montana is open to the public, and by staying at the American Prairie Reserve's yurt facility, Naturalist Journeys groups are close to the herds of bison and pronghorn, and prairie dog towns as well as burrowing owls, badgers and ferruginous hawks. Clear night skies, the sounds of coyotes wailing and songbirds at dawn in flight song are rare in today's busy world. Ecotourism is just starting at the reserve and funds go to help their mission.
Naturalist Journeys calls its Kansas Prairies trip "America's Heartland." Here, participants have the opportunity to see, first-hand, the tallgrass and mixed grass prairies that pioneer families passed through as they made their way west. While most of these lands were converted to farmland, the National Park Service, Nature Conservancy and state and private reserves hold tracts that have never experienced the plow. In early May, flowers bloom ahead of the grasses attaining full height, and the passage of wetland-associated birds through places like Cheyenne Bottoms and Quivira National Wildlife Refuge in massive numbers puts Kansas on the map as having Wetlands of International Importance. These lands are critical as a migratory stop for North American shorebirds and waterfowl, including the endangered Whooping Crane. In addition, Bison and Elk reside in this bountiful area, and can be observed at the Maxwell Wildlife Refuge. Naturalist Journeys' 6-day tour, April 29-May 4, starts in Wichita, Kansas, travels to Great Bend, and ends in the Swedish town of Lindsborg near the Flint Hills. Participants can experience scenic drives, wildlife, birding and nature interpretation by expert guides and an optional night "Owl Prowl." Fanciful rock formations at Mushroom Rock State Park are also featured. In fifteen years of running tours, Naturalist Journey's enjoys promoting places of ecological significance that few other companies highlight. One recent participant wrote a glowing report for her local paper she called "A Bucket List Prairie", and stated, "Kansas isn't what you think it is."
Naturalist Journeys is a nature-travel company based in Portal, Arizona. They strive to support ecotourism throughout the U.S. and beyond, through small-group guided journeys, often in cooperation with local non-profit groups and communities. Visit their website at http://www.naturalistjourneys.com or request a free brochure by email, info(at)naturalistjourneys(dot)com or calling, toll-free: 866 900-1146.
###