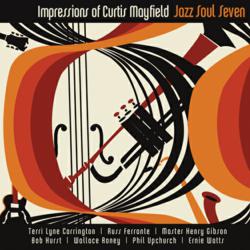 Los Angeles, CA (PRWEB) February 29, 2012
Curtis Mayfield ranks among the most important and influential artists of the past century, the definition of soul both as leader of the Impressions and as a solo artist. As a singer and musician, his pure tone melted hearts and as a songwriter, he was peerless, a voice of African-American pride as well as a man whose insights into the ways of the heart spoke to generations.
Mayfield's impact on artists of all persuasions is incalculable, and jazz musicians have long found much in his words and melodies to inspire new interpretations. Impressions of Curtis Mayfield (available everywhere April 17th) is a new collection of a dozen reimaginings of some of the late, great soul man's most potent compositions, recorded by a collective of jazz aces calling themselves the Jazz Soul Seven: Terri Lyne Carrington–-drums, Russ Ferrante—piano, the late Master Henry Gibson—percussion, Bob Hurst—bass, Wallace Roney—trumpet, Phil Upchurch—guitar, and Ernie Watts—saxophone. Each of these players is a giant in his or her own right, who brings to these timeless songs a lifetime of experience and knowledge. Produced by Brian Brinkerhoff, co-produced by Upchurch, and recorded by Andy Waterman at The Bakery in North Hollywood, California, Impressions of Curtis Mayfield forces a rethink of just how rich and durable is the catalog of Curtis Mayfield, who passed away in 1999, more than nine years after suffering a paralyzing accident that never stopped him from spreading his message.
As it says in A. Scott Galloway's liner notes that accompany the CD, "Curtis Mayfield is a peerless prophet of American popular music, a gentle giant who walked this earth with enough third eye insight and empathy for his fellow man to tower above us all. Instead, he stood among us, an iconic artist with an unwavering sense of purpose that made a conscious choice to remain earthbound and ever accessible."
That juxtaposition of power and empathy is palpable in such tunes as the album-opening "Freddie's Dead," "Amen," "People Get Ready," "Keep On Pushing," "Superfly," "I'm So Proud" and "Gypsy Woman," the song that first put Curtis Mayfield and the Impressions on the musical map more than 50 years ago. Even sans vocals, these new takes on the Mayfield canon express vividly the beauty and honesty inherent in his work.
Writes Galloway, "As a subject for tribute and exaltation, Curtis Mayfield is undeniable. And for a tribute steeped in the freedom and complex expressiveness of jazz, the man proved to be an unexpected natural…What better music than jazz to expand Mayfield's messages of freedom, unity and uplift in less linear directions? In jazz, the musicians are the message! This band really would have brought a smile to Curtis' lips."
For More Information go to: http://www.bfmjazz.com
###