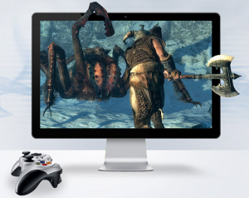 Our Showcase Savtira eStore gives a taste of several of our eStores poised to launch in the next 30 days
Tampa, FL (PRWEB) February 29, 2012
Savtira Corporation today announced the launch of a showcase eStore designed to demonstrate the Cloud Commerce e-tail platform - http://estore.savtira.net. The new platform combines best-in-breed ecommerce features with cutting-edge digital technology built on HTML5, such as streaming and a digital locker, which are typically beyond the reach of most retailers. Savtira has plans to unveil optimized platforms for specific devices such as: cable, IP-set-tops, smart TV's, smartphones and tablets.
"We are thrilled to display our new showcase eStore," said Timothy M. Roberts, President and CEO of Savtira. "This eStore gives a taste of several of our eStores poised to launch in the next 30 days. Our eStore clients range from visionary early adopters to big business laggards."
Savtira's clients are able to get to market faster by leveraging the Savtira cloud-based infrastructure that has been in the planning stages for nearly a decade, and in place for more than a year. All Savtira eStores are customized and branded for the client. Savtira positions itself as a business channel partner, selling its client's products "behind the scenes." Digital businesses have the option of engaging the full suite of Savtira's offerings or integrating any component with their existing portfolio.
The Beta eStore is part of a phased approach to deliver the state-of-the-art technology that characterizes Savtira. The Beta phase includes a built-in Cloud Commerce Catalog. Savtira has contracted 20 million products from a wide variety of great brands. Every day, thousands more products are being loaded into the eStore. The Beta phase also includes ecommerce feature sets desired by retailers, such as social media connectedness, wish lists, cross-selling, predictive search, live chat support, and more.
The most exciting new technology showcased in the beta eStore is the 1Locker - http://www.1locker.com. The 1Locker is a digital locker that allows consumers to store up to 5 gigabytes of digital media in the cloud for free. Consumers using the 1Locker can store, download and stream digital content to any internet-connected device. The current version of the 1Locker is in the final stages of Beta.
The next phase of Savtira is even more remarkable. Currently under development and available this year, is application streaming from the cloud. Savtira's patented streaming technology works on any connected device, anywhere, any time without the hassles of downloads and installations. Consumers will be able to stream digital media from the cloud to any device with the ability to pause and resume later. Savtira uses Auto-Spin-Up technology which allows us to offer our entire catalog and on user request and spins up virtual machines on the fly in under 15 seconds.
Other projects under development are Internet Radio and IPTV. Internet Radio is slated to launch in the next 30 days. Savtira eStores will be able to offer a custom-branded global radio station with over 7,000 channels. Consumers are able to design their own playlists or buy packages allowing them to create their own radio stations. Savtira is taking IPTV to the next level: consumers will be able to turn their devices into a TV, viewing internet TV in real-time anywhere in the world. Existing IPTV providers only offer the ability to stream shows that have already been aired. Consumers will also have the ability to create playlists and favorites. These are yet more examples of features that no other B2B solutions provider offers to ecommerce retailers.
Here's what Savtira's cloud-based ecommerce solution offers:

An ecommerce engine, client-branded in 30 days, running in 60 days and operating a revenue sharing model within 90 days
A product catalog of up to 20 million digital and physical goods, all available for direct purchase by consumers and for cross-selling opportunities
A streaming Entertainment Distribution Network (EDN) which streams movies, music, games, and software over the Internet on-demand, with no download required
A Digital "locker" for consumers to store all of their digital content in one place, where it's accessible, viewable, and playable from any Internet-connected device
About Savtira
Savtira is in the business of digital distribution with a Software-as-a-Service (SaaS) ecommerce platform that provides a turnkey system for the distribution, marketing, merchandising, and sale of digital media and physical goods in a single store, and in a single, unified shopping cart. Savtira-powered eStores are designed to meet the specific needs of retail partners and are custom-branded for each one. To facilitate the delivery of digital content, Savtira is building a new-generation, carrier-class Entertainment Distribution Network (EDN), streaming all digital media from the cloud, with a feature set that eclipses anything on the market. The company is headquartered in Tampa, Fla., and has an office location in the United Kingdom. For more information on Savtira, visit: http://www.savtira.com or call 813.402.0123. Follow us on Twitter at: http://www.twitter.com/savtira.
Savtira is a registered trademark. All other product and service names mentioned are the trademarks of their respective companies.
Media Contact
Savtira Corporation
Direct: (813) 440-3841
Fax: (813) 440-3800
http://www.Savtira.com
###