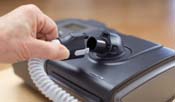 Get warm and cozy with the System One Heated Tube
Houston, Texas (PRWEB) February 29, 2012
Building on their highly successful System One humidification, Philips Respironics has introduced an additional humidification solution that enhances performance, flexibility and comfort for the sleep apnea sufferer. The System One Heated Tube provides CPAP users with air temperature control, improved humidification and rainout protection. The Heated Tube can only be found on the Philips Respironics System One REMstar Auto A-Flex with Heated Humidification and Heated Tube model DS560TS.
The System One Heated Tube takes into account the room temperature and humidity by using a sensor at the end of the Heated Tube to allow the CPAP user to choose what temperature is right for them and at the same time protects against rainout.
The Heated Tube is a welcome advance in CPAP therapy and is just another reason why Philips Respironics is a leader in the sleep therapy market.
It is estimated that more than18 million American adults suffer from Obstructive Sleep Apnea (OSA). Obstructive Sleep Apnea (OSA) is a disorder where breathing is briefly and repeatedly interrupted during sleep. It occurs when the muscles in the back of your throat do not keep your airways open. Common symptoms of Obstructive Sleep Apnea (OSA) include chronic snoring, daytime sleepiness and fatigue, obesity, smoking and age to name a few.
The most common treatment for Obstructive Sleep Apnea (OSA) is the use of a continuous positive airway pressure apparatus commonly known as a CPAP machine. A CPAP machine is an air flow generator that generates a pressure prescribed by a physician to keep the airway open. This is attached to the CPAP user with the use of a CPAP mask that attaches to a tube running from the CPAP machine.
CPAP machines and CPAP masks are available in many different styles, sizes and with many upgrades that will make treatment for sleep apnea a comfortable proposition. The staff at Sleep Restfully will be glad to assist you determining what CPAP machine and CPAP mask not only meets your physician's prescription but is right for your lifestyle.
Sleep Restfully, Inc. prides itself on the high quality customer service it provides to Sleep Therapy and Oxygen customers. Their slogan, "We may not be able to match everyone's price but no one can match our service" is exemplified by their Better Business rating of "A". They carry a complete line of CPAP, BiPAP and VPAP machines as well as CPAP supplies by ResMed, Philips Respironics, Fisher & Paykel and other manufacturers. In addition to CPAP machines and CPAP supplies, Sleep Restfully is your portable oxygen concentrator specialist offering the best prices and support for portable oxygen concentrators such as the Respironics SimplyGo, Respironics EverGo, Sequal Eclipse 3, Inogen G2, Invacare XPO2 and more. They also sell stationary oxygen concentrators such as the Philips Respironics EverFlo and Invacare Perfecto. Sleep Restfully, Inc. has been chosen as an Authorized Internet Provider for the new Philips Respironics SimplyGo Portable Oxygen Concentrator.
In addition, Sleep Restfully stocks all replacement parts for the CPAP machines and CPAP mask as well as replacement parts for all portable oxygen concentrators.
Sleep Restfully can be contacted on their toll free number (866) 923-2727, or by visiting our website http://www.sleeprestfully.com.
###