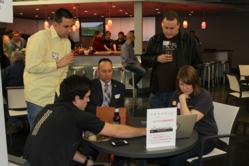 "We have been blown away by response. We thought it would just be something fun we tried out through the summer.
-Dan Miller
Westwood, KS (PRWEB) February 29, 2012
What started as an experiment has turned into a hip event for Kansas City's startup scene.
They call it Venture Friday, and it began in the summer of 2011 as a way for Kansas City startup Red Nova Labs to demonstrate that the coasts weren't the only areas that could foster entrepreneurial spirit. Word quickly spread around town and the last two meetups have met capacity in Red Nova Labs' private office lounge.
"We have been blown away by response," CEO Dan Miller said. "We thought it would just be something fun we tried out through the summer. But I think if we had shut it down in autumn as planned, we would have had folks waiting on the steps for our doors to open."
To keep the event fresh after a year of hosting, Red Nova Labs decided to mix things up in 2012 with new formats and a few off-site meetups. Previously, the standard format was a two-hour happy hour with two entrepreneur presenters each month.
The changes are not happening simply for the act of changing. By breaking routine, as CMO Carrie Royce explains it, the hope is to reach a new group of people, help foster collaboration on new ideas and further grow the startup ecosystem in the Midwest.
Most of the ideas for new formats are coming from group members, who had the chance to suggest new formats on the Venture Friday meetup discussion page or in-person at past meetups.
The first experiment of 2012 landed in February's happy hour: a Startup Roundtable that featured eight local projects. Each company had its own table to show off its venture to any interested attendees.
"I thought the Startup Roundtable was a unique format to the usual networking type events I've been to," said Austin Brown, CMO of Hurrdat, a new social media company who participated in Startup Roundtable. "The roundtable format allowed individuals to have more in-depth discussions about each featured business, which was beneficial to both sides of the conversation."
Other Kansas City-area startups that participated in the roundtable were Leap2, Lucky Orange, ShownHome, Ruxter, Tech Orchard, My Turn Books and Wilderness Brewery. Attendees kept busy learning about each venture.
"I really liked how the different businesses were on display and highlighted," said Jill Heisterkamp, who attended her second Venture Friday. "I would love to see this done again. The open networking was also fabulous, as always."
Brown came away from the event with several contacts and ideas to take back to his partners.
"After the event I was pleased to take away some valuable feedback from a variety of business-minded individuals," he said. "People asked questions that led to great discussions about our endorsement platform. I was excited to share the vision and opportunities ahead of Hurrdat, and receive positive feedback as a result."
The next Venture Fridays experiment is in April, when the meetup group will go off-site for the first time at Snow & Co. in Kansas City's Crossroads district. The event, which will be limited to 50 attendees, will have a Speed Meeting theme, where a number of members switch tables every few minutes for rapid intros. Then people will break up into casual happy hour as usual.
"Two hours isn't enough time to become friendly with more than a handful of people. But more than two hours can wear on you," Royce said. "So we thought it might be cool to try something where everyone can meet each other, like speed-dating for entrepreneurs. It might come off like a sack of doorknobs, but we won't know until we try. Booze, as always, will be involved, so I anticipate free-flowing conversation."
In May, Think Big Partners has volunteered to collaborate and cohost at their swank location in downtown Kansas City. Talks have started with several other startup-supporters to cohost, and the Red Nova Labs team is still kicking around ideas for future events, including the popular idea of Failure Night where entrepreneurs swap failure stories.
"We don't want this to be all about Red Nova Labs," Royce said. "That was never our goal. Our goal was to bring marketers, developers and entrepreneurs together to talk over what we're all working on in a casual atmosphere. It boosted our energy and introduced us to great minds in the area, and we want to do the same for others. We hope that by 'mixing it up' this year, we can help smaller social circles of entrepreneurs and supporters find each other — create a bigger circle. As anyone who's ever launched a company can tell you, a large, diverse network can really make a positive difference when you're going through the phases of a startup."
The next Venture Friday on March 9 will be the last one at Red Nova Labs' Discovery Lounge until at least June — possibly longer. Aaron Sloup with Lantern, who talked last November about his work and his product's Beta launch, will return to show off the progress his startup has made. A new company called 4 First Names, which originated at Startup Weekend last year, will also present. Venture Fridays regular Nate Allen and Wes Mikel are the brains behind the startup.
Startup Roundtable was such a success that Red Nova Labs is considering bringing it back in the spring. The meetup group is also open to new ideas. Entrepreneurs who are interested in attending or have meetup ideas are encouraged to visit the Venture Fridays page on meetup.com.
About Red Nova Labs
Red Nova Labs was founded and self-funded in 2009 as a web development and marketing agency as well as a technology think-tank, creating original, cutting-edge systems for web and mobile. On the service side, the company supports interface design, backend programming and online marketing for self storage facilities and other industries. On the product side Red Nova Labs invents, builds and launches its own web-based platforms for various applications and vertical markets. To support both business models, its growing team of development engineers conceives resourceful code generators which add practical ease to complex programming—enabling unprecedented speed in creating vibrant, multidimensional environments and utilities. Once a product is launched, each business operates autonomously as an independent unit, with full engineering and marketing support from Red Nova Labs on the back end. The company is open to collaborative opportunities.
###