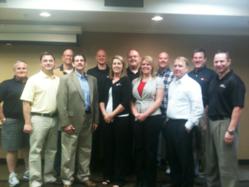 we work tirelessly to streamline our business in order to become more efficient, and most importantly more home owner and commercial property owner friendly
Edmond, Oklahoma (PRWEB) February 29, 2012
Annually, Reroof America Contractors conducts their managers meeting at a central location, usually in conjunction with a roofing conference such as the International Roofing Expo. In addition to attending the roofing show, and learning cutting edge tools and programs for roofing, Reroof Managers attend a two day session with Reroof America Management and fortify their plans for the year. "As a professional roofing contractor, we work tirelessly to streamline our business in order to become more efficient, and most importantly more home owner and commercial roof property owner friendly" said Mark Lenzer, Vice President of Reroof America.
This year Reroof America had managers from several of the key roofing offices across North America who focuses on storm damage, regular exterior remodeling, roof leak repair, and commercial reroofing and new construction.
Selected Reroof America's key initiatives include:

Implementation of New Office Software – "Reroof America has partnered with one of the most cutting edge roofing estimating software companies in North America" said JR Emrich, President of Reroof America. The Software will be launched in all offices in March 2012. It is expected to serve as a Customer Relationship Portal as well as an estimating program. "This will allow for a much smoother job process flow and create an enormous boost to our customer communication said" Mr. Lenzer. "It will make the communication on every roofing job seamless for the home owner, service consultant and roofing foreman". This significant investment in Reroof America's customer service is expected to immediate impact.
*Implementation of a New Pay Plan for the Service Writers and Consultants – Reroof America has announced plans to create new positions within the company for salaried salesmen. "In 2011, Reroof America was represented by close to 100 individual sales representatives across the country, of these the majority are independent sales contractors or (sales subcontractors)" said Lenzer. "Our new positions will allow better management of sales employees, resulting in enhanced customer service and more attention to detail with our customers" The recruiting, hiring, and training for this new non-commission salaried sales positions are expected to begin in the spring of 2012.
Implementation of an Enhanced Storm Damage Emergency Response Program - Reroof America has partnered with several new vendors who assist emergency roofing repair contractors, Like Reroof America in enhancing their response time and getting distressed home owners the help they need, when they need it… which is usually immediately. These programs have already been implemented.
About Reroof America
Reroof America Contractors, and Reroof America Management Corporation are owned and managed by J.R. Emrich, President. The company's began in the roofing industry in 1979. J.R. Emrich and his companies operate debt free and utilize multiple suppliers in several states. Bonding capability is up to 4 million dollars. The Dun and Bradstreet credit rating for the company is 1R2 and the D&B # is 83-696-7372.
Reroof America is based out of Edmond, OK, having completed over 60,000 roofs in over 16 states over the past 33 years.
Reroof America's primary business is residential roof replacement; however several locations have commercial divisions, window divisions and offer other residential construction solutions. Reroof America is fully licensed and insured in all states within which it operates, and is a member of NRCA, BBB and multiple local and regional associations.
For Information About Reroof America Contractors, Reroof America Corporation, Reroof America Management, or Metro Roofing, contact Mark Lenzer at: 405-330-5400 or mlenzer(at)reroofamerica(dot com) or follow reroofamerica on facebook or Google+.
###