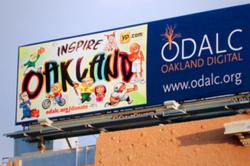 We are honored to extend our support to educate diverse students, develop talent and ensure that they fully grasp the urgency of digital literacy.
San Francisco, Calif. (PRWEB) February 29, 2012
San Francisco-based multicultural communications agency Améredia has teamed up with the Oakland Digital Arts and Literacy Center (ODALC) to provide students design and digital-media focused training this spring semester as part of its 2012 Inspire Oakland workforce development program.
"We are honored to extend our support to educate diverse students, develop talent and ensure that they fully grasp the urgency of digital literacy," stated Pawan J. Mehra, founder and principal, Améredia. "It is through these programs that we carry out our vision of reaching and supporting diverse communities, and we are grateful that organizations like Oakland Digital commit their time and resources to the underserved."
Now on its third year, the Inspire Oakland program focuses on making computer education accessible to everyone, equipping low-income communities with digital skills despite limited resources. Oakland Digital started the program shortly after its 2009 inception, when a handful of philanthropists left the workforce to fulfill their vision of building self-reliant communities through technology and cultural collaboration.
"The 21st century's technology-driven economy calls for educating everyone -- regardless of economic and cultural background -- to become digitally literate," explained Shaun Tai, executive director, Oakland Digital. "Our advocacy for inclusion that we share with Améredia is to create opportunities for underinvested communities by jumpstarting their careers and inspiring them towards the right motivation."
The classes will be held at Laney College and will run for six weeks starting on March 22, with a final competition focusing on the theme "What about Oakland inspires you?" Professionals in the fields of advertising and design will extend their expertise to students of Laney College and Peralta Community College, wherein almost 70 percent of the students are African American, Asian and Hispanic. Améredia will be providing agency expertise to judge the competition and potentially host students for its internship program.
In the past, Améredia has worked with organizations like the ADCOLOR® Industry Coalition to similarly empower students and underserved communities in the digital creative arts field. Other programs supported by Améredia include the 4A's Multicultural Advertising Intern Program, AAF's Most Promising Minority Students Program, Howard University's Center for Excellence in Advertising and The One Club.
About Oakland Digital Arts and Literacy Center
Oakland Digital (ODALC) (http://www.odalc.org) educates, inspires, and empowers low-income communities to participate in the digital economy. It is a volunteer-driven 501(c)(3) not-for-profit, public benefit organization that makes Internet education more relevant and provides underserved students and small business owners the tools they need to be prosperous 21st-century citizens. Founded in 2009, Oakland Digital strongly and actively strives to increase diversity and provide equal opportunity within its community.
About Améredia
Améredia Inc. (http://www.ameredia.com) is a full-service multicultural advertising, marketing and communications firm specializing in building growth strategies within U.S.-based diverse communities. The agency enables private, government and non-profit organizations to connect with Hispanics, Asians, Europeans, Middle Easterners, Pacific Islanders, Africans and other diverse cultural groups nationwide. Conceptualizing culturally-engaging campaigns across print, TV, radio, online, outdoors, events, grassroots and social media platforms in over 20 leading languages, Améredia is one of the fastest-growing diverse market agencies nationwide.
###