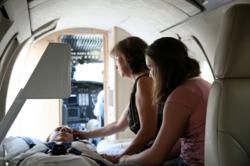 Air Critical Care's High Risk Obstetric (HROB) program has also been instrumental in transporting patients by air ambulance out of the Caribbean that have run into pregnancy complications while vacationing on the islands.
Port Charlotte, FL (PRWEB) February 29, 2012
Air Critical Care, an advanced air medical transport company, reports having recently seen an increase in the amount of air medical transports because patients are not able to receive the level of treatment that they need within the Caribbean. Due to limited resources and specialized care available within the Caribbean, many hospitals have to transfer patients to more advanced care facilities that are offered in the U.S., but are not available in the Caribbean.
For many U.S. citizens and foreign patients needing medical care, they are often hindered by the limited amount of specialized medical doctors and medical services that they can receive on the islands. In order to aid these patients, Air Critical Care has begun providing emergency air ambulance services from the Caribbean to the United States in an effort to transport critical care patients to their needed medical facility in a timely manner.
Michael Peat, Managing Partner of Air Critical Care, stated that, "We receive calls regularly from Caribbean hospital Case Managers that have a patient that needs more advanced medical treatment than what hospitals in the Caribbean are able to provide them with. With the recent influx in demand for long distance medical transportation, we have started providing more services to this region than ever, and most of the patients that we transport are very sick."
Peat also stated that, "Air Critical Care's High Risk Obstetric (HROB) program has also been instrumental in transporting patients by air ambulance out of the Caribbean that have run into pregnancy complications while vacationing on the islands." Air Critical Care recently performed an air ambulance transport for Tracey and Michael Sonntag who were vacationing in the Caribbean when Tracey started experiencing pregnancy complications and needed an HROB transport at 29 weeks. Air Critical Care's Medical Director, Dr. Blane Crandall, headed the HROB transport team and utilized the company's new ultra sound equipment, the General Electric LOGIQ Book XP. The equipment is able to monitor the baby's external heart and provide new levels of clinical value for HROB patients in countries with limited healthcare options. Air Critical Care remains the leader in medical transportation by utilizing cutting-edge technology and providing critical care flight nurses aboard each air medical transport with specialized medical directors that oversee the entire transport.
According to the Caribbean Tourism Organization, the amount of tourists visiting the Caribbean totals over 16,709,000 people per year (Latest Tourism Statistics). Air Critical Care has reported dozens of tourists needing medical transportation from the Caribbean to the U.S. in the last year. The need for air medical transport services in the Caribbean is high, and Air Critical Care is dedicated to providing these patients with both emergency and non-emergency long distance medical transportation to wherever they may need to go. Air Critical Care is able to provide an international air ambulance not only in the Caribbean, but anywhere in the world, 24/7.
An important tip to note when traveling abroad is that it is extremely important to check on your insurance- whether it is a family's regular medical insurance plan or travel insurance. A simple trip to a hospital in the Caribbean could require international medical transportation to a more specialized medical facility back in the states.
Occasionally, patients that utilize an air ambulance service may be eligible for air ambulance insurance reimbursements that are given for utilizing this service. Air Critical Care is currently a Blue Cross Blue Shield insurance provider. Some insurance companies such as Blue Cross Blue Shield will provide patients with options on different levels of emergency care that may be needed. Air Critical Care will work closely with a patient's insurance provider to see if a patient is eligible for air ambulance insurance.
The company's worldwide air ambulance service is able to provide private medical transports by a fixed wing jet to "Every City, State & Country Worldwide." Air Critical Care picks the patient up in a ground ambulance and transports them to the air ambulance at a nearby airport. The air ambulance company will handle every detail and work closely with the discharging and accepting hospitals to make sure the patient receives the appropriate medical treatment that they need. A medical team of critical care flight paramedics and flight nurses will stay with the patient throughout the transport process from bedside-to-bedside to ensure the patient receives the best continuity of care during their air medical transport.
For more information about Air Critical Care's Worldwide Air Ambulance, please click here: Air Medical Transport, or call toll-free at 1-800-550-0674.
###