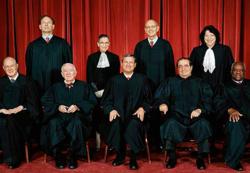 I think the Occupy Wall Street and the 99% movement is coming out of this growing frustration that the public senses that the system is rigged in favor of corporations
Philadelphia, PA (PRWEB) February 29, 2012
In the last six months, protesters gathered and were later arrested on the steps of the U.S. Supreme Court for objecting to what they view as corporate-friendly decisions on campaign finance, consumer rights and systemic sex discrimination at the expense of citizens. The cases include Citizens United v. FEC, AT&T v. Concepcion and Wal-Mart v. Dukes.
Monday, March 5, 2012 at 7:00 p.m. on the Philadelphia CNN-News affiliate WFMZ-TV, The American Law Journal examines "Has the Supreme Court Tipped Corporate?" Joining host attorney Christopher Naughton are the Hon. Edward Cahn, former Chief Judge for the U.S. District Court of the Eastern District of Pennsylvania, Hon. Gene Cohen, former judge for the Philadelphia Court of Common Pleas, Danielle Franco-Malone, Esq. legislative counsel with the Alliance for Justice in Washington, D.C. and Chapin Cimino, professor at Drexel University Earle Mack School of Law.
"I think the Occupy Wall Street and the 99% movement is coming out of this growing frustration that the public senses that the system is rigged in favor of corporations," says Franco-Malone. Counters Judge Cahn: "I don't think so, I think the public has great respect for the Supreme Court...the most important thing that is bothering the American public is... unemployment. The Supreme Court has had nothing to do with that."
The broadcast includes excerpts from programs discussing the issues, including a clip of Comedy Central's Stephen Colbert referring to Chief Justice John Roberts wearing "NASCAR robes" as an example of corporate influence on the court.
The program will be available on iTunes and the program's website after the 7:00 p.m. broadcast.
The American Law Journal is the weekly talk-feature program airing Monday nights at 7:00 p.m. eastern on the CNN News affiliate in Philadelphia, WFMZ-TV 69 to Pennsylvania, New Jersey and Delaware. View archived programming and "Find a Lawyer" information on http://www.LawJournalTV.com.  
Next week: "Marriage By Any Other Name: Gay, Straight, Young or Old, Unmarried Couples and the Law"
Case citations:
Citizens United v. Federal Election Commission 130 S.Ct. 876 (2010)
AT&T Mobility LLC v. Concepcion, 131 S.Ct. 1740 (2011)
Wal-Mart Stores, Inc. v. Dukes et al. 131 S. Ct. 2541 (2011)
###