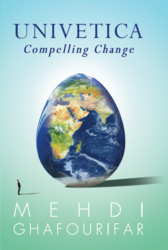 Univetica helps answer one of life's most important questions, 'Now What?'
San Jose, CA (PRWEB) February 29, 2012
Interested in discovering what Univetica can do for you in 2 minutes or less? Now you can, by meeting Amy, Univetica's newest animated enthusiast. The "Meet Amy" video is now featured on Univetica's homepage. Visit the site, press play, and experience a heartwarming story about a hardworking woman stuck in a daily routine and her quest to live a more fulfilling life.
"Univetica helps answer one of life's most important questions, 'Now What?'" said Mehdi Ghafourifar, CEO of Univetica Inc. and author of "Univetica: Compelling Change." "Univetica grew out of the need for a universal set of principles that could help each of us overcome everyday social challenges—principles appropriate for our time and increasingly interconnected world," he continued.
The "Meet Amy" video poses and answers the 'Now What?' question. It takes the audience through Amy's journey with Univetica from the moment of introduction to reading the book and applying some of its principles to noticing the ensuing transformations in her worldview, career, health, and life as a whole.
"Meet Amy" is a fun way to find out what Univetica can do for you and your community and an easy way to share Amy's story with your friends.
About Univetica
Headquartered in Silicon Valley, Univetica is a timely social initiative driven by people from widely varying backgrounds to help create a thriving global community. Univetica develops and deploys solutions that help more people make better decisions more often and become a more vibrant member of today's increasingly interconnected world. To learn more, visit: http://www.univetica.com. For more information about the ground-breaking book, "Univetica: Compelling Change," visit Amazon.com.
Media Contact:
Jillayn Le Grand
Email: press(at)univetica(dot)com
###