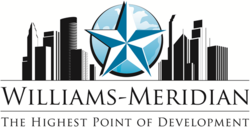 Victoria, Texas (PRWEB) February 29, 2012
Recent oil and gas drilling activity in the Eagle Ford Shale continues to benefit Victoria, Texas, generating a demand for real estate that has been unseen in the city for many years. This booming shale play has been heralded by many in the area as the economic revival story of a generation.
Houston-based real estate development firm, Williams-Meridian Companies continues its expansion on a number of fronts by targeting communities in the Eagle Ford shale and surrounding areas that stand to benefit from this boom.
Williams-Meridian was recently hired as the project's lead development adviser by SunMark Development & Investment, to assist the project team throughout the entire development process. Over the course of the project, Williams-Meridian will provide land planning, architectural and engineering review, a comprehensive market assessment, and lead the selection of all development partners, prior to commencing its development activities.
As part of its real estate development and management services, Williams-Meridian will oversee the entire pre-development planning process, including working closely the local firm Urban Engineering, and the architectural firm Kitchen & Associates.
When asked about the project's impact on Victoria, Philip Williams, the founder and president of Williams-Meridian, was quoted as saying "This project has the potential to transform Victoria into an even greater regional hub, providing the city with the ability to meet its growing real estate demands. Victoria is a charming city that has a very low unemployment rate of just over four percent, a strong and growing manufacturing base, and most importantly is in a great position to benefit from the shale activity."
Later in the interview, Mr. Williams continued by saying, "The city has a strong school system, proactive economic development corporation, and strong demand for real estate. I firmly believe that the economic boom created by the Eagle Ford shale will have a similar impact as the Bakken, but cities such as Victoria will be much better equipped at handling this demand from an urban planning perspective. It's clearly an exciting time for Victoria in general".
For more information on this mixed-use development by Williams-Meridian, please visit the company's website at http://www.williams-meridian.com.
Company Overview
Williams-Meridian Companies is a privately held, commercial real estate development firm providing creative, full-service solutions to its valued partners. Based in Houston, Texas, Williams-Meridian offers a wide range of commercial real estate services to clients across the nation, including real estate consulting, corporate real estate strategies, leading or co-developing projects, or providing joint venture equity on select real estate investments or development projects across all real estate asset classes.
###