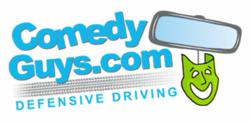 We have our comedians contributing to our Blog, Twitter, Facebook, and Google+ accounts with a lot of fun and funny content guaranteed to entertain.
Dallas and Fort Worth, TX (PRWEB) February 29, 2012
After being among the first people to have defensive driving classes taught by professional comics and then creating a ground-breaking online defensive driving class, Comedy Guys Defensive Driving is modernizing its industry again. ComedyGuys.com is aggressively moving into social media entertainment, using Twitter, Google+, Facebook and other various social media outlets to provide jokes, articles, cartoons, public appearances, and videos.
Comedy Guys co-owner Cash Cooper explained the company's online efforts this way: "Overwhelmingly, our customers are connected to social media, and they love that we keep up with their mobile lifestyle by offering our defensive driving course on the iPhone, iPad, and Android devices. And now we have our comedians contributing to our Blog, Twitter, Facebook, and Google+ accounts with a lot of fun and funny content guaranteed to entertain."
Of course, with Comedy Guys being a popular driving safety school, some of this online content will be driving related. But beyond just driving instruction, the company hopes to grow its website into a central source for online entertainment.
As Cooper described it, "We will have some company announcements here and there, but mostly the content will be geared towards entertaining our fans and encouraging them to participate. So people should keep checking in for funny quotes, YouTube videos, blog posts, movie reviews, top ten lists, and more."
For ComedyGuys.com, online entertainment began with its blog, where the company publishes comic and serious items several times a week. The Comedy Guys blog ranges from driving tips and driving-related new items to comedy videos, photos, stories, and even updates about performances and public appearances from the Comedy Guys comedians. Now Comedy Guys is expanding the blog by increasing the number of weekly updates and adding to its writing staff.
In December Comedy Guys further established itself online by moving onto Facebook, Twitter, and Google Plus. Not only has the Comedy Guys Twitter account grown through the holiday season, but several Comedy Guys instructors also have their own individual Twitter accounts. Already these accounts have attracted more than six thousand Twitter followers.
As 2012 progresses, ComedyGuys.com plans to expand its business into becoming a central location for hiring comedians for corporate events, private parties, and other public appearances. The company will soon be adding a section to its Website where event organizers can see the comedians in action and hire them for various functions.
According to Cooper, "Our instructors are working comedians, actors, and writers, and we really want their online presence to turn into more public appearances. It's wrong for us to keep all this funny to ourselves."
ABOUT COMEDY GUYS
Comedy Guys Defensive Driving currently offers live defensive driving classes taught by professional comedians in 17 Texas cities. Through its website ComedyGuys.com, it offers an entertaining online defensive driving course formatted to work on iPhones, iPads, and Android phones and tablets. Comedy Guys Defensive Driving courses are Texas state approved to meet court requirements for ticket dismissal and auto insurance discounts.
###