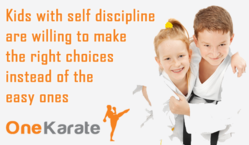 (PRWEB) March 02, 2012
New World Class Martial Arts York training facility is about to hit the United Kingdom, with the launch of their new premier martial arts facility One Martial Arts York.
With classes available in Kids Karate York, Kickboxing York and Adult Mixed Martial Arts York.
The Kids Karate program instils positive value skills like self-confidence, respect and camaraderie, self discipline and control and the ability to focus and achieve goals are all attainable for children with One Martial Arts York.
The Kickboxing program is safe, fun and exciting, it's amazing how quickly students can progress and start experiencing the benefits. Like the extra energy they have or how they sleep better, feel calmer and more in control, you could get started today.
The adult mixed martial arts teaches real immediately usable self defence skills to protect you and your loved ones in any situation and get in the best shape of your life. Students will learn the best techniques from the most effective styles and lose weight at the same time, it doesn't matter if you're out of shape or unfit because many of the new students in class that just started are just like you!
Most people are aware of the more obvious benefits of martial arts training. But there are also a lot of other benefits that people rarely think about such as.
Social benefits
When training in martial arts, you make friends who last a lifetime. There's a camaraderie amongst training groups. Everyone supports each other. And it's an amazing thing.
Better school grades
The focus and self-discipline students learn transfers to all areas of life. And for many students, that means a nearly immediate improvement in grades and test scores at school.
Drive and motivation
Both the physical and psychological aspects of martial arts help to motivate people. When they're challenged, physically, healthy and mentally sharp, they see the world with a sense of clarity and purpose, and that helps them achieve goals outside of martial arts as well.
A healthy activity for life
Martial arts and Kickboxing give people something to be excited about. It keeps them in shape. It keeps them mentally focused. And it's a very healthy way to spend their time.
I couldn't list all of the benefits of martial arts in this press release.
Every individual walks away with their own unique experience.
Some love the challenge. For others it's a way to build self-esteem and a new network of friends.
It's impossible to say going in what kind of benefits an individual person will take away from the experience, but there's no doubt that every student who walks through the front door takes something positive away from the experience.
One Martial Arts York is inviting you and your child for a trial martial arts membership, even if you decide martial arts isn't right for your child, at the very least you can enjoy a positive experience that your child will always remember.
To set up a trial, simply visit their website One Martial Arts York.
Feel free to ask them any questions. They'll set up your kickboxing trial, and there's absolutely no pressure or obligation to join.
It's simply a great way to let children and adults experience all of the great things martial arts has to offer here in York.
###