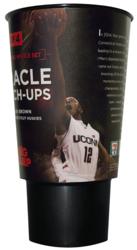 Atlanta, GA (PRWEB) March 13, 2012
POWERADE®, the official Sports Drink of the NCAA®, takes to the court with 7-Eleven® stores in March to celebrate March Madness® and memorable moments in finals history. With a Mountain Berry Blast® flavored by POWERADE® on both Slurpee® frozen carbonated beverage and Big Gulp® fountain machines, POWERADE® brings "miracle moments" from the NCAA® Tournament to collectible Big Gulp cups. This is the first time a POWERADE® flavor has been developed for a 7-Eleven frozen carbonated beverage, but it is not a sports drink.
Each of the four collectible Miracle Match-up Big Gulp cups features a stand-out former NCAA basketball student-athlete during a game-changing play. Team players featured are Taliek Brown, 2004, University of Connecticut Huskies; Lorenzo Charles, 1983, North Carolina State Wolfpack; Jon Bryant, 2000, University of Wisconsin Badgers, and Tony Skinn, 2006, George Mason University Patriots. All four of these limited-edition cups are now available in participating 7-Eleven stores nationwide for $1.49 each.
7-Eleven also offers a Match-up Slurpee cup ($1.99), a special spoon-straw ($1.49) and a new Purple Freeze aluminum cup ($3.99).
A Quick Response (QR) code on each Big Gulp cup links to a mobile POWERADE website where CBS Sports Analyst, Greg Anthony hosts a brief video on that cup's featured big play. For a limited time, this video content is exclusive to 7-Eleven, compliments of POWERADE.
"These Big Gulp collectible cups match up well with one of our key consumer demographics, sport fans ages 18 to 45," said Jesus Delgado-Jenkins, 7-Eleven senior vice president of merchandising, marketing and logistics. "These cups are a create value as a re-useable soft drink container. And, the QR code offers a way basketball fans can get exclusive video content, adding value to their purchase."
Other features this month at7-Eleven stores include:
A custom-made pair of neon-colored Slurpee high-top sneakers will be awarded to five lucky Slurpee fans. The cost to enter the contest is five Slurpee Rewards Points, and winners will be selected in a random drawing at the end of the month.
Slurpee fans who tweet answers to daily basketball opinion or trivia questions on Twitter and include the hashtag – #BigGulpHoop – will be entered to win a Slurpee-branded mini-basketball hoop and ball. Five of the mini-hoops, ideal for smaller-than-life pick-up games or as a boredom-buster, will be awarded daily during March.
7-Eleven has created a virtual towel pop -- like painful towel pops in locker rooms after a big game -- for sports-lovers to send to friends from the Slurpee webpage. The e-towel pop can be found on the Slurpee Nation Rewards page (at slurpee.com) and is free to send. Unlimited towel pops can be sent, but only one animated snap at a time.
A second free offer is a teeny-tiny sweatband for the Slurpee spoon-straw. The wee red, white and blue sweatband art can be printed from the webpage, cut out and affixed to any Slurpee straw, because nobody likes a sweaty straw.
Slurpee vans will sample the POWERADE® Mountain Berry Blast® flavored Slurpee drink at select Orlando, Los Angeles and Dallas-Fort Worth-area events.
For downloadable video and photos, go to: http://www.magicbulletmedia.com/MNR/7ElevenMiracleMatch-Ups/