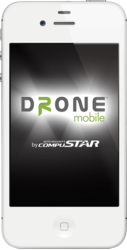 "We've revamped the overall layout and added new functions that will help all of our users."
Seattle, Washington (PRWEB) March 01, 2012
Firstech LLC., creator of Compustar remote starters, has released the newest version of its DroneMobile smartphone application. DroneMobile, which is available for free in both the Apple and Android App Store/Marketplace, allows users to start or secure their vehicles using their smartphones.
One of the key additions to the new DroneMobile app is the "Status" function. A user can now instantly confirm a vehicle's status to make sure it is locked, started, secure, and much more. Other new features include customizable home screens, detailed alert notifications, and compatibility with today's hi-resolution screen phones. Firstech project manager Roberto Riego shares, "What people can expect with the new DroneMobile update is an App that looks great, and works even greater. We've revamped the overall layout and added new functions that will help all of our users."
DroneMobile's latest update promises to rekindle the excitement surrounding a smartphone app that earned "Best of Innovations" honors at CES 2011. Firstech has also announced that its development for Windows Phone 7 and BlackBerry phones is underway and scheduled for release this spring. However, BlackBerry users can still use the original version of DroneMobile for their systems.
In order to use DroneMobile on a car, users must visit their local, authorized dealer to install the necessary DroneMobile hardware. Dealer locators and contact information can be found on DroneMobile.com. DroneMobile offers 1-year free basic subscription upon activation.
About Firstech, LLC.
Located in Seattle, WA., Firstech has become one of the most recognized remote start and security companies in North America. Firstech has been designing and engineering vehicle security and remote start products for over 12 years. Firstech products are sold under the CompuStar, DroneMobile, Arctic Start, NuStart and Vizion brands; these brands are available through independent specialists and national retail chains throughout North America.
###