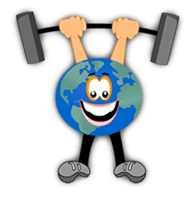 Look Good. Feel Good
Great Mills, Maryland (PRWEB) March 06, 2012
vigybu.com releases a unique fitness and healthy nutrition information website aiming to prevent and reduce obesity in communities around the world.
vigybu.com includes over 300 'how to' fitness and physical activities videos along with healthy nutrition information. vigybu.com is primarily targeting high school, college students and people who normally don't exercise or eat healthy. vigybu.com creative website and activities promote the use of fitness facilities in college campuses and encourages children and adults alike to stay physically active and eat healthy
vigybu.com is unique in its ability to challenge how physically fit a person is with quick and easy exercises, from basic to advance. Members can request specific fitness exercises for free. Members can also track their fitness progress and create fitness and nutrition plan they can share with other members on the site or workout together.
What's more, vigybu.com is teaming with local communities, schools, colleges and counties across the United State in its mission of creating a culture of physical activities and healthy nutrition among members.
vigybu has simplified complex nutrition information into a simple but effective and easy to follow.
###