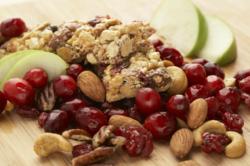 Los Angeles, CA (PRWEB) March 05, 2012
thinkThin®, the industry leading natural weight-management bar company, has extended into the fruit and nut category by launching three new flavors: thinkThin® Crunch Fruit & Nut Blueberry, Cherry and Cranberry Apple. thinkThin® Crunch Fruit & Nut bars have 60% less sugar and 2X the protein than other leading fruit and nut bars.
In addition to being gluten free, these new thinkThin® Crunch Fruit & Nut bars are also vegan and dairy free. Integrity of the product is maintained by using only the highest quality ingredients and creating a variety of original and delicious flavors to support overall weight wellness. thinkThin® realized the opportunity to deliver to the natural foods industry an exceptional tasting nutrition bar bursting with naturally vibrant rich superfruits and crunchy mixed nuts great for any active and weight management lifestyle.
"Consumers want real food with no artificial anything. That's why our bars are made with pure ingredients full of nuts and real fruit. This food is beautiful, sweet, tart and crunchy. It is great portable nutrition for people on the go and a wonderful snack for the whole family," states Lizanne Falsetto, founder and CEO of thinkThin®.
About thinkThin®
thinkThin® has created a whole new way to think about nutrition through an uncompromising focus on natural ingredients that support weight wellness and overall health. thinkThin® defines weight wellness as the optimal weight range at which our bodies feel happy and healthy. All thinkThin® products are based on four key nutritional principles: high protein, no sugar, low sugar and gluten free. The thinkThin® product family consists of ten flavors of thinkThin® Protein Bars to satisfy the on-the-go, active lifestyle; four flavors of thinkThin® Crunch, and three flavors of thinkThin® Crunch Fruit & Nut a 60% less sugar mixed nut bar for the whole family and four flavors of thinkThin® Bites, a 100-calorie perfectly portioned snack for any time of day. Now you can bring healthy recipes to your home watching thinkThin® founder and CEO, Lizanne Falsetto, in Lizanne Naturally, her new cooking series on http://www.youtube.com/thinkthintv. For more information on deliciously natural nutrition, please visit http://www.thinkproducts.com.
###