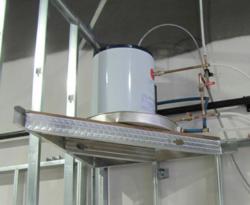 Griffiths Plumbing have been a maintenance partner of Miele since construction of our Canadian Head office in 2006.
C. Walker
Building Maintenance Coordinator
Richmond Hill, Ontario (PRWEB) March 13, 2012
Griffiths Plumbing and Mechanical, commercial plumbing in Toronto, Markham and Richmond Hill, offers commercial, industrial and residential plumbing services. Their new website conveys a high-level of reliable services such as their unique Eco Plumbing Service installation. However, the main reason for the new website is to help deliver the message that they are available to service all residential, commercial and industrial projects—on any scale. The new website, designed by IFM Web, a web design and SEO company in the Toronto area, outlines a wider range of services which focuses on the core service of the company which is commercial plumbing. In Toronto, which is a large city in southern Ontario, Griffiths Plumbing is set up to take projects in all situations including small, medium and large scale projects.
Their website has been redesigned to impart a new level of commitment to large commercial clients in need of a reliable plumbing company and to home owners who have been frustrated by fly-by-night operators. Griffiths Plumbing is able to handle large and small installations which can involve new and retrofit projects, as well.
David Griffiths owner of Griffiths Plumbing, offers, "We have grown and matured as a company over the years and we wanted to offer not only a full range of residential plumbing services to both home owners who wanted a local plumbing company in Richmond Hill to depend on, but also larger commercial scale projects as well. David goes on to say "I learned from my father, George, what it takes to offer a high-quality, reliable service. We offer quality workmanship, punctuality and meet our deadlines with strict adherence to code in every project we take on."
Len Doren, Creative Director of IFM Web services, says, "David and Janice of Griffiths Plumbing are amazing people to work with. We've designed and built their website, provided web hosting services and also offered both on-page and off-page Search Engine Optimization services. In Toronto, this means searchers looking for a quality plumbing company in their area, can easily find Griffiths' website. These searchers are considered to be qualified business leads. This is specifically the kind of traffic David wanted." Len goes on to say that "working to help promote a family-run business , like Griffiths Plumbing, is always a pleasure."
What's special about Griffiths Plumbing is that they are one of only a handful of companies that offers "Eco Plumbing Systems". David was the designer and installation manager on a recent "eco" project at a residential property that featured Solar Hot Water Heating, Rainwater Harvesting System and Greywater Recycling Systems. All these systems were designed using a series of filters, ultra violet bulbs, backflow preventers, and colour-coded water lines to distinguish potable water from non-potable water sources which were installed by our team of highly trained mechanics.
Griffiths Pluming is a family-owned and operated company that provides quality plumbing services for both commercial and residential clients in the Greater Toronto Area including Richmond Hill, Thornhill, York Region and Toronto. The company was founded in 1974 by George Griffiths. In 1997 his son, David, joined the company after completing his university degree. Now at the helm, David has expanded the company's services to include a full-range of commercial, industrial and residential services, such as custom home projects, backflow, property management, eco systems, sprinklers and drain cleaning. For more information on Griffiths plumbing, visit their new website at http://www.griffithsplumbing.com or call 905 475-6518.