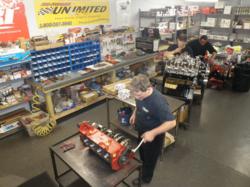 The main purpose is to build an engine within a specific set of rules while achieving the most horsepower
Freehold, NJ (PRWEB) March 29, 2012
At the age of 17 Matt could be spotted blazing down the highway in his '70 Chevy Nova. His love for muscle cars led him to a lifelong career in circle track engine building and NHRA class engine building. Matt was known around the track as the "miracle worker". His mentor and teacher in his engine building was Ralph Truppi. Ralph was responsible for Matt's looking outside of the box and realizing that the engine builder's creativity can be endless. With his briefcase full of tools and all of his genius combinations, his work had resulted in record holding drag race cars.
In the early 90's, Matt had his hand in building the first Big Block Chevy Corporate GM engine to reach a whopping 900 horsepower for a dirt modified car. It's no wonder he had been a trendsetter in his career.
Over the years Matt has backed away from all of the rowdiness of the track, but he still has his tricks up his sleeve and has been working closely with Proformance Unlimited in designing new and impressive horsepower combinations. His Dyno experience has allowed Proformance Unlimited to now have all engines tested for horsepower proven results.
Proformance Unlimited welcomes Matthew Ciarfello to our team. You can stay up to date on our new engine package designs by visiting us on the web or by viewing our live run engine videos on YouTube.