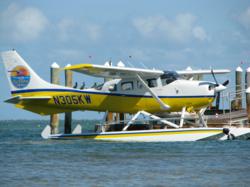 "Grand Champion at International Air Show...
Key West, FL (PRWEB) March 28, 2012
Key West Seaplanes, the area's premiere provider of luxury private seaplane charter service has expanded it's fleet with the recent addition of a custom-designed and custom-built Cessna 206.
This one-of-a-kind custom seaplane created by Wipaire, Inc for Key West Seaplanes takes air travel to the next level with this luxury seaplane equipped with every possible cutting-edge Wipaire modification. This aircraft is the commercial seaplane operator's dream come true. The modifications to this aircraft increase safety, performance, reliability, fuel economy and passenger comfort.
When the need arose to add to their seaplane fleet, Key West Seaplanes teamed with Wipaire, Inc. of South St. Paul, MN. Wipaire is most often known as being the leading designer and manufacturer of Wipline floats. This world-class seaplane authority has been engineering and building the highest performing and most popular aircraft modifications since 1960. Wipaire offers a long list of the industry's finest performance enhancing modifications and factory upgrades for the Cessna 206 seaplane.
Of the amenities found on this newest Key West Seaplanes aircraft is the custom-installed Wipaire co-pilot door modification which adds an immense amount of safety and convenience for the front seat passengers of Key West Seaplane's newest seaplane by allowing a convenient third way of entering or exiting the aircraft. The door is manufactured from carbon reinforced composite material and utilizes Cessna manufactured hinges and latches.
Key West Seaplanes newest seaplane also boasts "Wip" Tips that extend the wings by 18 inches. This modification gives drastically increased performance of this seaplane. These "Wip" Tips increase the rate of climb and reduce the take off and landing distances. This is especially beneficial in hot and humid conditions found in The Florida Keys, and for the company's seaplane charters to The Bahamas and Caribbean. At the same time this amazing modification decreases fuel usage. "Wip" Tips also increase this new seaplane's flying stability at low speeds as well as increase safety margins in all phases of flight.
Another phenomenal custom modification to Key West Seaplane's newest seaplane is the Cessna 206 I-O 550 engine upgrade and McCauley prop modification. Wipaire was the pioneer in this combination modification, being the first to recognize its true potential while being able to use all 300+ horsepower continuously if desired by the pilot. With these modifications there are significant gains in climb and cruise performance. There is also a quieter operation, thus promoting the environment because of its significantly lower noise level. Key West Seaplanes provides private seaplane service to Little Palm Island and other exclusive island resorts and a commitment to noise abatement is high on the company's agenda.
Key West Seaplanes newest custom seaplane is finished off with a brand new set of 3450 Wipline floats that are amphibious, allowing seaplane operations on water, land as well as on grass strips. The company relies on this for it's private seaplane charters from island resorts to the mainland and beyond. The Wipline 3450 Float was designed using the latest C.A.D. (Computer Aided Design) technology. Wipline Floats are known for both performance and durability and have been the seaplane industry's gold standard for almost 50 years.
Key West Seaplanes looks forward to the future by offering this newest luxury seaplane to it's passengers. The bond between Key West Seaplanes and Wipaire will continue to grow as there are plans for further expansion of the company's seaplane fleet in the near future. There will be further cutting-edge modifications to this particular seaplane within the next month as Wipaire will be featuring it's newest generation of floats on this aircraft! Key West Seaplanes has been chosen to showcase the first set of these new Wipaire floats. It is also anticipated there will be further modifications and upgrades to the other aircrafts in the Key West Seaplanes fleet.
Key West Seaplanes is based in Key West, Florida and is owned and operated by Julie Ann Floyd and Nikali Pontecorvo, both long-term locals of Key West. The duo are both commercial seaplane pilots who started the company in 2009, fulfilling a dream of owning and operating their own air carrier service. The company has had recent accolades that include having it's private seaplane service to Little Palm Island featured in FLYING Magazine in the December, 2011 edition. The company's private seaplane service is now also seen on The Travel Channel featuring Key West Seaplanes/Little Palm Island.