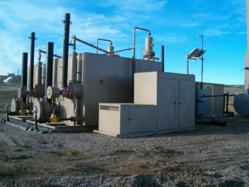 Previous BTEX elimination efficiency claims were based upon an early computer modeling program and never EPA field proven.
Houston, TX (PRWEB) March 02, 2012
Numerous oil and gas producers and pipeline operators are now reviewing and incorporating Engineered Concepts' emission free natural gas dehydrator technology. The technology was developed and field-proven under a cooperative agreement with the EPA and the Greenhouse Gas Technology Center Southern Research Institute..
As shale play and other oil and gas production operations become more popular and continue to encroach upon urban populations throughout the nation, federal, state and local governments are demanding more effective pollution control methods during the production of these natural resources.
For decades oil and gas producers have been using various technologies to capture or destroy air pollutants such as volatile organic compounds (VOCs), the greenhouse gas methane and cancer causing hazardous air pollutants (HAPs) such as benzene, toluene, ethyl benzene, xylene and hexane commonly referred to as BTEX. The majority of these technologies involve burning or flaring which produces the greenhouse gas CO2.
BTEX emissions are a bi-product of natural gas dehydration practices and are particularly difficult to capture and properly dispose without emissions escaping into the atmosphere. In 1996 the EPA estimated there were 38,000 active natural gas dehydrators in the United States that emit about 18.6 billion cubic feet (393,000 tons of methane, 60,000 tons of HAPs and 142,000 tons of VOCs per year. Previously accepted BTEX unit equipment designs have been found ineffective when dealing with rich gas streams or when operating in geographic regions that experience extended cold temperatures or wide temperature swings such as desert climates.
The Engineered Concepts technology developed a temperature controlled BTEX removal system in 2002. The Engineered Concepts BTEX removal system is a closed process that consumes or sells all of the uncondensed hydrocarbons such as BTEX and as the testing proved, is unaffected by gas volume, climate or "rich gas" content. Because BTEX is a saleble fuel component, the manufacturer states that higher gas volumes and richer gas content actually increases the operators' profits. The company also claims that retrofitting to an existing dehydrator most often requires minimal field construction and applies to remote wellhead locations, large plant dehydrators, or offshore service - anywhere elimination of toxic hydrocarbon emissions is desired. As many municipalities have learned, the production of hydrocarbons often produces a distinct odor.The Engineered Concepts technology eliminates odors associated with hydrocarbon emissions. "The emission free modifications do not compromise operation of existing dehydration systems at all," states Rodney Heath managing partner of Engineered Concepts LLC. . The Greenhouse Gas Technology Center's field-testing concluded the process effectively eliminates virtually all Volatile Organic Compounds (VOCs), BTEX and methane emissions associated with the glycol dehydration process. "The effectiveness of the previous BTEX unit designs that can be found in operation throughout the United States were based upon an early and very basic computer modeling program under ideal conditions. They were never verified under a GHG Center field test and as we have learned, a field test and a limited computer modeling program often produce very different results," explains Heath.
"To remove the BTEX emissions we implement on of two approaches states Heath. "If we have a vapor recovery system for the storage tank emissions on the site, we combine the BTEX with the tank emissions route them to the sales line where there is no exposure of the BTEX to the atmosphere. If the dehydrator is operating independently, say in a remote location in an environmentally sensitive or urban area, we use the entire BTEX content in the gas stream to fuel the dehydration process itself. It is a closed process under all conditions. Older BTEX unit designs float excess emissions into the burner stack where they vent into the atmosphere when high gas volumes, rich BTEX gas content or a simple swing in weather conditions overwhelm the system design."
Currently Engineered Concepts has four entirely emission free locations with tank vapors and dehydrator emissions captured in one process, and is expected to install numerous others in 2012. The company holds over 40 patent and patent pending oil and gas production related technologies. "For over 10 years we have been developing and testing new and better ways to safely and cost effectively produce our natural resources. In the past three or four years with the increased activity in the shale plays, we have made significant strides with the help of numerous oil and gas producers and pressure from all levels of government. Our BTEX removal technology has been available for many years. Working bugs out and testing new approaches takes time. I guess our process although it is patented was considered as a "me to" along with all the other BTEX unit designs that have been promoted throughout our industry until now," states Heath.
The founders of Engineered Concepts originally began operations as the Olman Heath Company in 1959 in Farmington New Mexico. Weatherford International purchased Olman Heath in the 1980s. The founders regrouped in 2000 forming Engineered Concepts LLC. and began developing high efficiency emission reducing oil and gas production technologies. Engineered Concepts has experienced exponential growth offering a full range of oil and gas production equipment from the wellhead to the pipeline specializing in wide range of vapor recovery and emission reducing techniques. For more information visit: http://www.engineeredconcepts.com
###