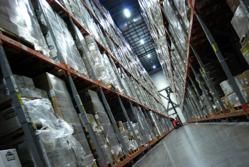 Chicago, IL (PRWEB) March 08, 2012
SmartWatt Energy, Inc., a leading nationwide provider of turnkey energy-efficiency solutions for cold storage and food processing facilities, will be exhibiting at the 2012 Industrial Refrigeration Conference & Exhibition hosted by the International Institute of Ammonia Refrigeration (IIAR). The conference will be held at the Frontier Airlines Center in Milwaukee, WI on March 19-21, 2012.
Attendees are encouraged to visit SmartWatt Energy at Booth 332 to qualify for a complimentary commercial energy analysis and discuss energy savings needs with staff. The General Manager and Lead Project Engineer from SmartWatt Energy's Chicago office will be in attendance, as will representatives from the corporate office.
SmartWatt Energy's value-engineered combination of energy-efficient lighting and mechanical upgrades allow facilities to operate more efficiently, save on energy costs and maximize utility rebates. With operations nationwide, SmartWatt Energy has developed innovative energy-savings solutions for many facilities in the industrial refrigeration industry, including multiple national account rollouts.
IIAR is the world's leading organization providing advocacy, education and information to the ammonia refrigeration industry. The organization holds an annual Industrial Refrigeration Conference deigned to provide the ammonia refrigeration industry with products, services, safety workshops, panel discussions and networking opportunities.
ABOUT SMARTWATT ENERGY, INC.
SmartWatt Energy, Inc., is a leading nationwide provider of turnkey energy-efficiency solutions. SmartWatt Energy is dedicated to lowering businesses' operational costs through energy-reduction strategies. SmartWatt Energy provides whole building energy assessments and implements lighting retrofits, VFD upgrades, control system enhancements, ECM upgrades, smart meter installations, and more to help commercial, industrial, government and utility customers meet their sustainability goals. SmartWatt Energy's energy-efficiency services include construction-grade energy audits, value-engineered designs, self-performed installations, utility incentive procurement, facilitation of EPAct 2005 tax deductions and maintenance support. For more information, visit http://www.smartwattinc.com.
###