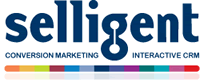 Braine-l'Alleud (PRWEB) March 14, 2012
Consulting firm 4C Consulting chose to enrich its portfolio with Selligent Interactive Marketing, Selligent's cross-channel campaign management, interactive marketing, and e-mail marketing solution.
4C Consulting, the consulting firm specialized in designing, managing, and optimizing the customer experience, assists companies in their transformation from a product-oriented to a customer-oriented organization. Their combined expertise in CRM, BI-services and marketing helps companies implement a global sales & marketing strategy focusing on measurable results.
After several successful common projects for organizations in various sectors, 4C Consulting has selected Selligent Interactive Marketing as the underlying platform for cross-channel campaign management for customers looking for a solution that answer complex needs.
With this partnership, Selligent and 4C Consulting provide solutions to businesses seeking to improve customer experience and value through effective, interactive cross-channel campaigns. With Selligent Interactive Marketing, advertisers can automate the implementation of consistent, personalized campaigns according to the behavior of both customers and prospects, measure the ROI for each campaign scenario, and identify the best-performing segments and sequences.
"Thanks to 4C Consulting know-how in marketing and customer interaction development strategies, and to their experience as a partner of a leading CRM vendor, our clients receive high-quality assistance for successfully deploying Selligent Interactive Marketing, either as a stand-alone solution or integrated with their CRM." said Nicolas Van Vijnckt, Partner Manager Benelux at Selligent. "Companies can manage all their touch points, make their cross-channel campaigns more efficient and improve their return on investment due to better knowledge of their customers, optimal coordination of their sales channels, and high-quality customer interactions. 4C Consulting's clients can offer their customers an optimal experience at each stage of the customer life cycle," he adds.
"While traditional campaign management thinking involves executing campaigns out to the customer, successful digital marketing will act more as a mutually beneficial journey around customers' wants and needs. This requires a customer experience approach that the Selligent Interactive Marketing software can support", said Pascal Borremans, co-founder of 4C Consulting.
This partnership is part of a program for the development of partnerships with specialized marketing players. Selligent offers consulting firms and marketing agencies a flexible, modular model which takes into consideration their engagement capabilities and adapts to their requirements.