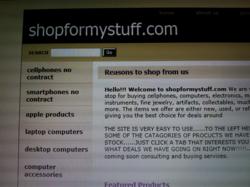 The internet has been waiting for a website like this
Philadelphia, PA (PRWEB) March 21, 2012
Upon arriving at shopformystuff.com, there is a clean look to the site. Cool white and purple decorate the site for a clean look and ease of finding things. To the left of the shopformystuff.com home page are the many product categories that are offered. There are 14 product categories and they range from no contract smartphones, jewelry, Apple products, artifacts to collectibles. The rest of the home page is packed with current specials of the items offered. New, used, recertified; it seems to be all here.
Now back to the product categories.
The shopformystuff.com premium service category seems to be the most popular with customers. At this section customers can choose the price, model, condition, etc... of a special item requested and shopformystuff.com will produce results. So just about any non-perishable goods can be obtained this way
Contact them is easy. Just call the phone number listed or send them an email. Orders can be placed in there as well. Once an agreement on product dimensions and price are set, shopformystuff.com will send an invoice out through PayPal. The email for the order will be sent to the customer with the best, unbeatable price. Once paid the item will be shipped to you at a very reasonable rate.
In the Philadelphia Metro Area (aka Delaware Valley) local arrangements can be made for customers who order very large items or want items that are in stock sooner.
The internet has been waiting for a website like this. Shopformystuff.com and the new shopformystuff.com premium service.