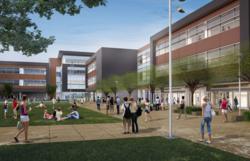 One of the most unique things in store for the new campus is the 21st-century Student Union that celebrates how kids learn today.
Sacramento, CA (PRWEB) March 01, 2012
One of the largest high school construction projects in the State of California, the San Marcos Unified School District accepts recognition on behalf of the modernization and reconstruction at San Marcos High School—a $180 million project, which includes an interim campus for 2,400 students. Honored by the Coalition for Adequate School Housing (C.A.S.H.) and the American Institute of Architects California Council (AIACC), the project was set apart by its green design and planning. Designed by San Diego-based school architecture firm, LPA Inc., plans for the new high school double classroom space by 50 percent.
Designers accomplished the feat without adding acreage by "going vertical," resulting in a three-story, 412,000-square-foot facility positioned around a central quad. Students, parents, educators and administrators asked that the school embrace a single, outdoor space to promote a sense of community and give a family like feel. Organized by curriculum, with the feel of a live-work setup, students will find amenities, like the library reading center, student store, and career center, on the ground floor, while academic spaces are housed on the floors above.
"One of the most unique things in store for the new campus is the 21st-century Student Union that celebrates how kids learn today," says Wendy Rogers, School Design Principal at LPA Inc.
Equipped with flexible seating for 150, a large projection system, and views to the quad amphitheater, the Student Union will not only be a new gateway to the high school, but the heart of the campus as well.
Campus wide WiFi makes it possible for every student to connect and work via the internet, fulfilling the district's goal for one-to-one computing capabilities. The infrastructure that supports this initiative also supports other 21st-century learning models, which emphasize mobility, flexibility, and collaboration. Collaboration-focused features planned include classroom clusters, common spaces, and furniture for students and faculty that facilitate group work.
"Flexibility was deliberately designed into the new San Marcos High School—they can operate as a subject-based, comprehensive high school or in the future, small learning communities or a 'School within a School," explains Keith Hempel, architect at LPA Inc. "As education evolves, the high school can too."
The indoor-outdoor connection of the future high school is also very strong. High efficiency HVAC systems will be used, along with energy efficient lighting, low-flow plumbing fixtures, stormwater management techniques, and a clean roof, which makes it possible to add photovoltaic panels in the future, so that the high school can generate its own power. The reconstruction's design meets the healthy school standards of the Collaborative for High Performance Schools (CHPS). Designers have worked closely with San Diego Gas & Electric (SDG&E), and as a result, are set to receive more than $300,000 in energy efficient design incentives, from Savings by Design.
Other interesting points about the new, San Marcos High School:

The exterior of the main building will not be painted—it's the ultimate low-maintenance, durable design solution.
The building's concrete floors will never have to be replaced; they also cost less to maintain than carpet.
Designers have attempted to provide the district with a 50-year solution; the solution encompasses a building with a "long life, and a loose fit."
The project is delivered through a lease-leaseback arrangement, with Lusardi Construction. There was a design-assist twist to the arrangement through which subcontractors came onboard earlier than usual, to really fast track the process.
The new high school will have room for 39 percent more students, than its previous facilities.
Architecturally, the buildings are designed to provide an elegant yet easily maintainable campus.
The ground floor of the main academic building mixes the durability of cast-in-place concrete with the transparency of glass. On the upper floors, Swiss Pearl panels, Trex siding and passive solar controls, which provide warmth and articulation, were employed.
The project is funded by Proposition K—a $287 million bond measure—and demonstrates responsible stewardship and thoughtful use of voter-approved monies.
San Marcos High School
1615 San Marcos Boulevard
San Marcos, CA 92078
(760) 290-2200
About San Marcos Unified School District
The San Marcos Unified School District is an innovative and collaborative community, which provides an unparalleled educational experience through engaging and supportive environments. The district oversees approximately 18,950 K-12 students, and serves the communities of San Marcos, Carlsbad, Vista, Escondido, and the County of San Diego, Calif. For more information, visit smusd.org.
About LPA Inc.
Founded in 1965, LPA has more than 230 employees with offices in Irvine, Roseville, and San Diego, Calif. The firm provides services in architecture, sustainability, planning, interior design, landscape architecture, engineering, and graphics. There is no "Sustainability Director," at LPA. Instead, more than 78% of the professionals are LEED accredited, including the Human Resources Director and CFO. With extensive experience in public and private architecture, LPA designs a diversity of facilities that span from K-12 schools, colleges and universities, to corporate and civic establishments. More than 500 major design awards attest to LPA's commitment to design excellence. For more information, visit lpainc.com.
About CASH
The Coalition for Adequate School Housing (CASH) was formed in 1978 to promote, develop, and support state and local funding for K-12 construction. CASH Membership contains more than 1,500 school districts, county offices and private sector businesses including: architects, attorneys, consultants, construction managers, financial institutions, modular building manufacturers, contractors, developers, and others that are in the school facilities industry. Since 1982, CASH has sponsored or supported over $52 billion in statewide school bonds to build and/or modernize thousands of schools.
###